Rivers Not Your Father's Property – Wike Tackles Amaechi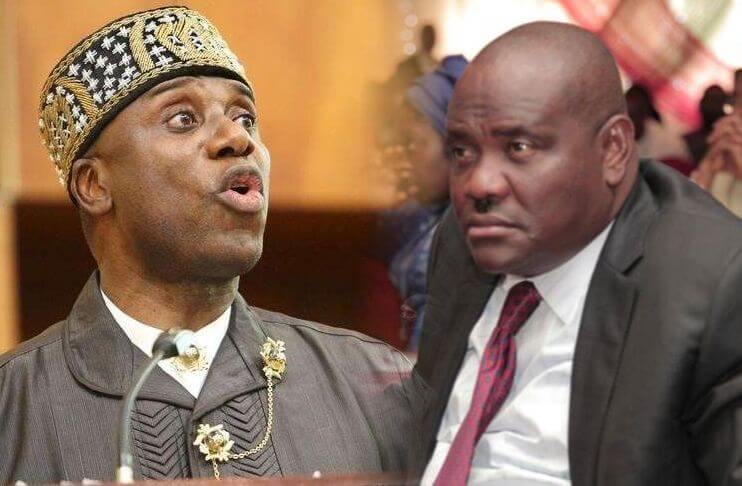 Governor Nyesom Wike of Rivers State has berated the Minister of Transportation, Rotimi Amaechi, for zoning the 2023 All Progressives Congress (APC) governorship ticket to the riverine areas of the south-south state.
The Rivers State governor stated that not even him as the incumbent governor had the power to determine who becomes a governor in Rivers.
He stated this at the grand finale of the Peoples Democratic Party local government campaign rally in Bori, the headquarters of the Khana Local Government Area of the state on Saturday.
Wike said: "I don't want to talk about politics of who is from here, who is not from here. At the appropriate time, the Peoples Democratic Party will sit; the leaders will seat and look at everything together and then take a decision. Not one man, even me as a governor, can say this is where I will zone (governorship). You cannot say that. It is not your father's property," the governor said while making a reference to the minister's comment.
"Nobody should panic. Somebody said he was going to give governorship (ticket) to the kalabari. Now, it is no longer kalabari. It is now in the riverine area. People play wayo (trick) games every day and every day. You say one thing yesterday. You don't know what you said; you said another thing today. Does it make sense? People should be known for being consistent.
The Rivers governor also slammed the APC-led Federal Government for failing to keep its promises to Nigerians.
Wike added, "One thing in life and that is what I want to remind the candidates, you have to be careful of the promises you make. You have to fulfil the promises you make. Time has come that we cannot listen to empty promises like what the ruling party is doing today. When they came in 2015, they told us the naira and the dollar will be equal – One naira to one dollar."
Source: Naija News