Attacks In South-East Worst Igbo Challenge Since Civil War – Uzodinma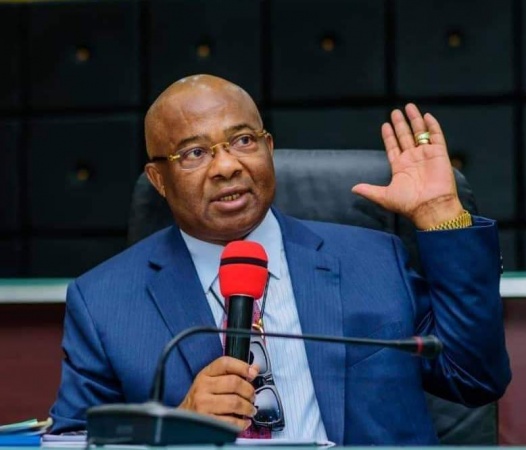 The Governor of Imo State, Hope Uzodinma, on Sunday said the attacks in South-East is the worst challenge faced by the region since the civil war.
Uzodinma stated this at the south-east security summit, which was held in Owerri, Imo state capital.
There has been several attacks in the region leading to loss of lives and invasion of security facilities.
Speaking at the summit, Uzodimma said the region is confronted by a hydra-headed monster that must be tamed urgently.
"While I will not easily subscribe to the school of thought that believes that the south-east is under siege, I will readily agree that since the end of the civil war, Ndigbo has not witnessed such a monumental existential challenge as the one now staring us in the face," he said.
"The question of how we came to this sorry state is no longer necessary. What matters now is how to get out of it fast enough, and how to secure the zone from further harassment by militants and terrorists, and free our people from the accompanying fear and panic; they are forced to live with in the aftermath of the mindless attacks.
"This is the agenda for this summit and it is one task that we must accomplish together or forever live with the shame that under our watch, militants overwhelmed our constituted authority and subjected our people to a state of perpetual fear and trembling."
The governor said several misconceptions have been developed to explain the attacks, saying "the most ridiculous of these theories is the one that posits that Igbo no longer want to be part of Nigeria".
The Imo State Governor further stated that the people of the region are major stakeholders in the country with dominance in several sectors, hence, disintegration will not be beneficial to natives.
The Progressives Governor called on other Governors in the region to declare that the region is not at war with the federal government.
"If anything, we are on the same page in not only condemning terrorism anywhere in Nigeria, but in fighting same with all the arsenals at our behest. Like I have propounded time after time, Igbos are not at war with anyone, neither is anyone at war with Ndigbo," he said.
"What Ndigbo wants is justice, equity and fairness — a Nigeria that provides a level-playing ground for all citizens. That is what we want, not Biafra. And we believe we can get what we want through constructive and tenacious engagement with fellow nationals and relevant institutions, not by violence or war.
"Those creating the erroneous impression that Igbos want to leave Nigeria are either naive or mischievous. Igbos need Nigeria just like Nigeria and Nigerians need Igbos."
He charged security agencies in the South-East to work together through intelligence gathering and sharing.
He also asked security chiefs to provide information on needed logistics to end attacks in the region.