Ganduje Slashes March Salaries Of Political Office Holders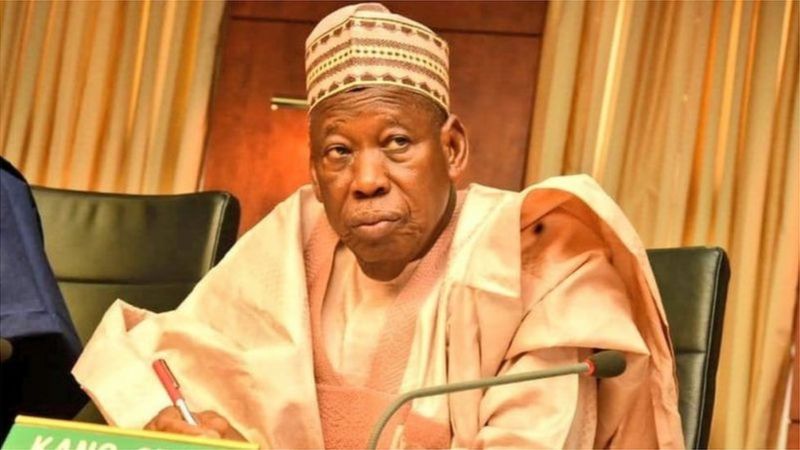 Governor Abdullahi Ganduje of Kano State has slashed the salaries of political office holders in the state by 50 percent for the month of March.
In a statement on Tuesday by the state Commissioner for Information, Muhammad Garba, the action was done due to dwindling state resources and shortfall in the revenue accrued from the federation account.
Garba said the salary slash affected the governor, deputy governor, and all public office holders in the state that included all commissioners, Special Advisers, Senior Special Assistants, and Special Assistants, among others.
The commissioner said that at the local government level, the salary slash affected the chairmen, vice-chairmen, elected councilors, supervisory councilors, advisers, and secretaries of local governments.
Meanwhile, former President of Nigeria, Dr. Goodluck Jonathan has lamented the difficulty in making headway in Nigeria without knowing some well connected or powerful persons.
He noted that the system works in such a way that every position including leadership posts are based on who you know and not your ability to deliver.
The former President however noted that it ought not be as merit should not be sacrificed on the altar of nepotism, ethnicity, and favoritism.
Jonathan made the submission on Tuesday during a one-day working visit to Bauchi State where he commissioned a road project named after him by the state governor, Senator Bala Mohammed.
Buttressing his point that appointments should be based on merit, Jonathan explained that he didn't know Mohammed personally when he made him the FCT Minister while he was president.
He said: "Yes, I did not know him when I met him and made him the FCT Minister. In Nigeria, we have this tradition where some people feel that some Ministries are big and juicy and must be given to a special person or that you have to know someone before you give him a responsibility role or put him somewhere. It is not like that with me, it is not my way of doing things.
"Today is a happy day for me because since I left office, this is the first time I am coming to Bauchi, first let me use this rare opportunity that I am before the Emir of Bauchi to thank the people of Bauchi for supporting my dear son, you have done very well to support him. It would have been difficult for him to win the election without your support."
"Bala Mohammed is a good younger brother, he is a good son, even when he was the FCT Minister, he worked with commitment and I gave him a free hand to run the affairs of the FCT. I've come to visit him and to commission a project and a road that was even named after me."
Download NAIJA NEWS app: