Fayose Exposes How Obasanjo Planned And Sent Bode George To Prison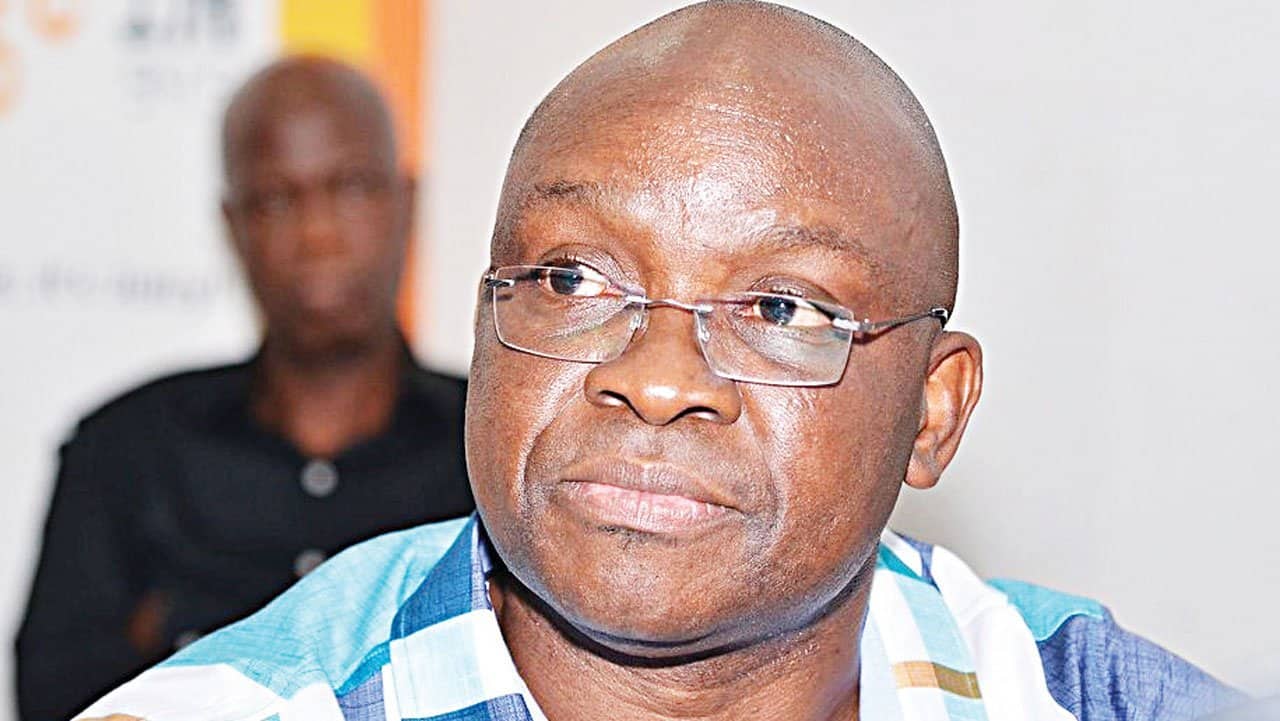 Former Ekiti State Governor, Ayodele Fayose has alleged that former President Olusegun Obasanjo was responsible for plotting and sending Chief Bode George to prison.
Fayose on Sunday alleged that George, a chieftain of the Peoples Democratic Party (PDP) was sent to jail due to political conflicts.
Naija News recalls that Justice Joseph Olubunmi Oyewole in October 2009, sentenced George to a 30 months jail term after finding him guilty of 47 out of the 68 charges brought against him.
The Supreme Court later overturned the judgment but he had served two years of the jail term.
On Sunday, Fayose alleged in an interview that Obasanjo was behind all the legal travails of George and planned it all from his Ota Farm residence.
He narrated that at that time, Obasanjo wanted to become the PDP BoT Chairman and felt the interest George had in becoming the PDP National Chairman would stand in his own way, hence he used the jail term to get him out of the way.
"He keeps saying I stopped him and I keep saying to him too that when I wanted to become governor in 2014, he did not support me. He worked against me. He worked with the likes of Jumoke Akindele to work against me. He worked with Dayo Adeyeye at a time. But let us be very honest, politics is all about interests. So, I don't want to blame him," Fayose said in an interview with Independent on Sunday.
He added that "Then I was a sitting governor. I left Ota and came to Lagos to meet him that Baba Obasanjo said he will send you to prison; that arrangement has been made for you to go to prison. He can't deny that.
"I was in Obasanjo's bedroom in Ota when he told me 'that Bode, he will pay for it dearly. He will end up in prison. He wants to be national chairman, let's see how he will do it'. When I heard from Obasanjo, I ran to Chief Bode George to inform him that Baba Obasanjo had insisted that Nuhu Ribadu, the then EFCC chairman should file your paper quickly, saying 'what Bode will be facing, he will not have time for national chairman,'" he narrated.
Fayose said it was in Transcorp Hilton that that crisis happened where Obasanjo and Anenih had issues and that it was because Obasanjo wante to be Board of Trustee (BoT) chairman of the PDP and George wanted to be National Chairman.
"It was on the issue of this national chairman that sent Chief Bode George to prison. Chief Bode George wants to be national chairman; Obasanjo wants to be BoT chairman. The late Tony Anenih eventually became the BoT chairman. Obasanjo believed that Chief Bode George was going to disturb his bid, that was why Chief Bode George was charged to court."
According to Fayose, "You will see that he was exonerated at the end of the day. Most of the people out there don't have these facts. So, if God has not given you the national chairmanship position that time and he has not given you this time, just know that it is not the will of God for you."
Meanwhile, in another development, former President Olusegun Obasanjo and renowned Islamic scholar, Sheikh Ahmad Gumi, have sent a message to the Federal Government over activities of bandits, kidnappers in Nigeria.
Obasanjo and Gumi in a statement released following their closed-door meeting which was reported by Naija News earlier recommended that special courts be established to try bandits, kidnappers and carriers of unlawful weapons in Nigeria.
Gumi had led some northern religious leaders to Obasanjo's residence at the Obasanjo Presidential Library, Abeokuta, on Sunday, April 4 to discuss ongoing insecurity challenges in the country, Naija News understands.
In the 21-point communique issued after the meeting, the leaders urged President Muhammadu Buhari's led government to take the issue of insecurity up with the Economic Community of West African States. They also recommended that whistleblowers against insecurity must be protected and rewarded.