Bishop Hassan Kukah Controversial Easter Message [Full Text]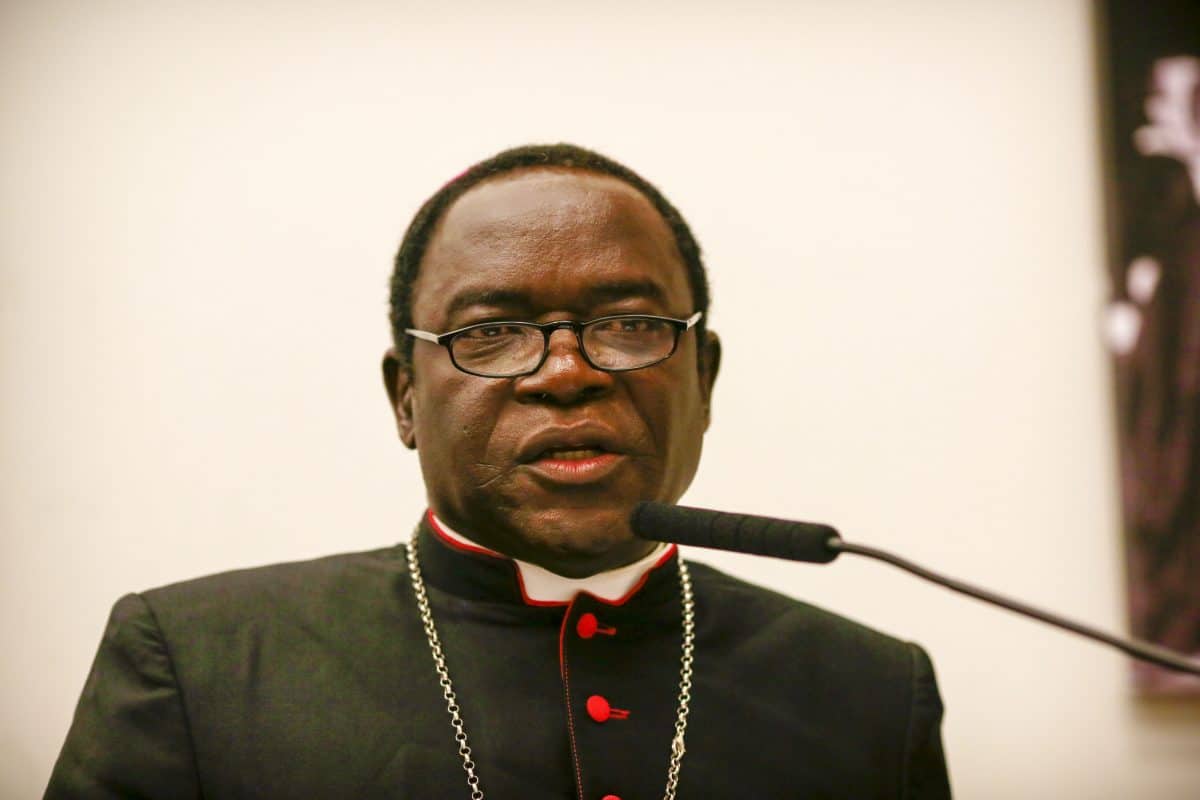 He stated that Nigeria has become a massive killing field under the President's watch as both government and the governed look on helplessly.
The popular cleric also accused Buhari's government of rewarding bandits, adding that Nigeria's current predicament reminded him of Israel's situation that led to the death of Eli.
In a swift reaction, the presidency has warned Kukah to stop dragging President Buhari's name into issues that don't concern him.
This is even as it noted that the clergyman is not speaking like a man of God based on some of his submissions.
Naija News reports that this is not the first time Kukah is coming down hard on President Buhari.
The cleric in a Christmas Day message had stated that a coup would have occurred in Nigeria if the country was ruled by a non-northern Muslim.
Read Kukah Easter Message Below:
Day by day, Nigeria drifts irreversibly into a dark tunnel. Things are falling apart with unnerving rapidity because those who govern have only a pact to protect their interests. Politics is merely its conveyor belt of ambition. Nigeria has a date with destiny. If we do not turn around, The axe is already laid to the roots of the tree (Matthew 3:10).
If a religious leader is afraid to say what is right, what else can his silence mean but that he has taken flight? Hiding behind a wall of silence is like taking flight at the approach of the wolf. – Pope St. Gregory the Great (540–604 AD)
Easter Sunday is here again. But first, let us step back to Friday. Good Friday was a Kairos moment for the beleaguered followers of Jesus, a defining moment that separated truth from falsehood and light from darkness. At Golgotha, Jesus remained silent when the first thief taunted Him, and when bystanders scornfully asked Him to demonstrate His divine powers by coming down from the cross. Everything about Christ – the prophecies of His birth, His life on earth, the miracles He performed, the sermons He preached, His torture and subsequent death – now hung languidly on a wooden cross on the hill of Golgotha. There were two types of persons at Golgotha: observers and waiters. The observers had two characteristics, derision and curiosity. The waiters were characterised by hope, fear, and anxiety. Both sides watched and waited with bated breath. After His ignominious death, everything now depended on the third day. After all, He had said He would rise after three days (Mark 9:31).
Let us pause and look back at the earlier events in the life of Jesus. Let us look briefly at the drama of the three temptations of Jesus by the devil as recorded by St. Matthew. First, the devil has a sense of perfect timing when he approached Jesus. He knows that Jesus has fasted for forty days and nights without food and was hungry (Matthew 4:2). Prove that you are the Son of God: turn these stones into bread, he says (Matthew 4:3). In response, Jesus says: Man will not live on bread alone (Matthew 4:4). Here, Jesus insists that there are higher goals for us to live or die for. The devil had hoped that like the dictators of today, Jesus could seduce the people with the bread of temporal power to gain cheap followership. No, Jesus says, you must set a higher moral goal.
Second, the devil asks Jesus to throw himself down the cliff. After all, he tells Jesus, the Angels of God will hold you (Matthew 4:6). Here, Jesus is called to take a shortcut to fame. Why travel the hard road of suffering, sacrifice, exclusion, and powerlessness? Succumb to the seduction of the dreamer, the charmer, climb the actor's shoulder. And then what next? Jesus rejects this temptation. Why? Because God demands more than theatrical performances from us.
Third, the devil says he will give Jesus all the kingdoms of the world (money, power, territory) only if He bows and acknowledges him (Matthew 4:8). Wow! No better evidence that the devil is a liar. He knows he has no kingdom and what he has is his kingdom of darkness and lies. It was in this same manner that the devil deceived Eve at the Garden of Eden by mixing a concoction of lies. At the base of this temptation is the seduction of pride and power. God knows that the day you eat it, your eyes will be opened and you will be like God (Genesis 3:5). Think of the many who have sold their souls for ephemeral power, those who have denied Jesus by action so as to ascend the throne of power. By His resistance to the devil, Jesus shows that following His path will require tremendous sacrifice.
It's now Saturday night. The clock is ticking. Will He or will He not rise as He said? No one knows what to expect. Will Jesus be exposed as a fraud? The Apostles are retired, desolate, forlorn, woebegone, and despondent. Has it all come to nothing? Have they lost everything? Has it all just been an illusion? Was Peter right when he asked what their reward would be, having forgone everything to follow Him? ((Matthew 19:27). Has this been one wild goose chase? Where would they turn to now? The sun gradually sets on Saturday. The night has in its womb, a combination of the derision and curiosity binding the observers and waiters. A cloud of trepidation envelopes everywhere. The Roman authorities have built a concrete wall of military security around the grave. They sealed the stone and placed heavy military guards just in case, as they feared, His followers come and steal the body and pretend that He had risen (Matthew 27: 64).
Sunday morning would seal the fate of everyone on both sides. As it turns out, the world forgot that: He who guards Israel neither slumbers nor sleeps (Psalm 121:4). Before daybreak, a woman, Mary Magdalene, visits the grave to perform a simple ritual. To her shock, she finds an empty tomb! (John 20:1). Slowly, painfully, unbelievably, the words go out: They have taken the body of the Lord away and we do not know where they have put Him (John 20:2). They will soon realise that, indeed, His resurrection is only a fulfilment of what He had promised during His lifetime. The devil has been defeated, and the Lord has the final word. Truth has drowned falsehood. Light has overcome darkness. Good has triumphed over evil. Life has defeated death.
It may sound strange, but for us Christians, the celebration of the resurrection of Christ is the greatest assurance that all these will pass away. This is not a call for us to simply sit on our hands or believe we can pray our crises away. As pointed out above, the sufferings of Jesus and His Cross provide us with the perfect mirror of our hope.
The Roman soldiers who stood guard over the grave were like dead men (Matthew 28:3). However, rather than face punishment, the Roman authorities offered to bribe them and asked them to lie that the Lord's body had been stolen while they were sleeping! (Matthew 28:13). It is too late: The Lord is risen indeed! World history succumbs to the power of the Creator of heaven and earth. Time and space have merged. History's calendar is split into two. Henceforth, everything will be marked by whether it happened before or after the resurrection of Jesus Christ! This is what Christians celebrate today. But what is the implication of all this for us in Nigeria today?
Nigeria's current predicament reminds me of Israel's situation that led to the death of Eli, the great High Priest of Israel. Israel's defeat in the hands of the Philistines led to the death of 30,000 soldiers. The two sons of the 98-year-old priest – Hophni and Phinehas – died in the battle. Eli's two sons had foolishly carried the Ark of the Lord into the battlefield for protection, only for it to become a trophy for the victorious Philistines. The high priest, Eli, collapsed and died after hearing this horrible news. Elsewhere, on hearing about the death of her husband, her father- in-law, and the loss of the Ark, Eli's daughter-in-law went into premature labour. She was delivered of a baby boy – a call for great celebration in Israel! Strangely, she responded by naming her newborn son "Ichabod," meaning, The glory has departed!
Taunted by Boko Haram, ravaged by bandits, kidnappers, armed robbers, and other merchants of death across the nation, there is collective fear as to whether Nigeria's glory is about to depart! Retired military and intelligence officers lament over what has become of their glorious profession, as they watch the humiliation of our military personnel. Traumatised citizens are tortured daily by bandits. The nation has since become a massive killing field, as both government and the governed look on helplessly. A thick and suffocating cloud of desperation, despondency, desolation, gloom, and misery hangs in the hot air. We have no message and have no idea how long this will last. Our people seek solace and protection, but frustration and darkness threaten to drown them. Has their government gone AWOL?
Two weeks ago, I came across a video in which a very frustrated Muslim cleric, addressing a Muslim audience, lamented: "If you killed 200 chickens in the farm of any of the big farmers, you will be dealt with. But today, we are being killed. It is your fault. On the day of elections, you say, it is Jihad! Christians will take over Nigeria! Ok, the Christians did not take Nigeria. It has been left in the hands of those who sit and see us being killed. If we are killed, the head says, God forbid! He was not elected to say God forbid." This imaginary jihad won the elections, now where are the jihadists? The lesson here is that politicians will use religion to mobilise for elections, but they cannot use it to govern.
The Catholic Bishops' Conference of Nigeria weighed in with a strong statement on February 23, titled, "We Must Pull Back from the Brink of Collapse." Part of the statement read: The very survival of the nation is at stake. The nation is pulling apart. Widespread serious insecurity for long unaddressed has left the sad and dangerous impressions that those who have assumed the duty and authority to secure the nation are either unable, or worse, unwilling, to take up the responsibilities to their office. Patience is running out. Sadly, all of these warnings are still falling on deaf ears.
It may sound strange, but for us Christians, the celebration of the resurrection of Christ is the greatest assurance that all these will pass away. This is not a call for us to simply sit on our hands or believe we can pray our crises away. As pointed out above, the sufferings of Jesus and His Cross provide us with the perfect mirror of our hope. St. Paul reminds us: We are hard pressed on all sides, but not crushed; perplexed, but not in despair; persecuted but not forsaken, struck down but not destroyed. We always carry around in our body the death of Jesus, so that the life of Jesus may also be revealed in our body (2 Corinthians 4:9). These are the hallmarks of our faith. We must remain steadfast.
I appeal to Christians to continue in the spirit of the Gospel, the teachings of our Lord and Saviour, Jesus Christ. St. Paul says: Though He was God, he humbled himself, became man and remained obedient up till death (Philippians. 2:6ff). Following in His steps, we Christians have lived through the life of martyrdom. Jesus taught us how to pray for our enemies (Matthew 5:44). Although His teachings are hard (John 6:60), it was not the guns of a powerful army that brought down the walls of Jericho. The prayers of the priests did (Joshua 6:20). Jesus defied the temptations of coming down from the Cross. He knew there was a higher truth deferred. It was fulfilled on Easter day. No matter the provocation, we must arm ourselves with the weapons of truth, the Word, the Spirit, and love. At the heart of Christianity is the Truth and Love.
Today, many of us erroneously speak about the trial of Jesus by Pilate on Good Friday. In reality, it was Pilate who stood trial, not Jesus. Pilate sat on a throne to judge what he himself was ignorant of – the truth. Chained by ignorance, the powerful often grope around a twilight zone between truth and lies. At the mention of the word "Truth" by Jesus, Pilate was jolted from his chair. In trepidation and apprehension, the mighty man says, Truth, what is that? (John 18:38). Pilate was looking for the Truth but did not recognise it when it stood right before him. In every age, the seduction of raw power tends to blind the Pilates of this world to the truth.
On our national Coat of Arms, we profess our motto to be: Unity and Faith, Peace and Progress. But let us ask ourselves: Is Nigeria united today? Do citizens still have faith in the country? Where are the signs of peace or progress? Today, before our very eyes, these words have been emptied of their flavour and have lost their resonance…
When governments face legitimacy crises, they fall back on serving the sour broth of propaganda, half-truths, and outright lies. They manufacture consent by creating imaginary enemies, setting citizens against one another by deploying religion, ethnicity, region, and other platforms, while appealing to the base emotions of patriotism. We forget the reality that without truth, the throne of power often turns into a cage, and the occupant is turned into a prisoner. In reality, the truth needs neither a judge nor a witness. The truth is its own judge and witness. Without the truth, as the old song says, all else is sinking sand!
Recently, according to the World Happiness Report, we are one of the unhappiest nations in the world. This is unacceptable but understandable. Our clay-footed fight against corruption has not moved the needle of transparency forward. Of course, being the poverty capital of the world comes with its rewards such as banditry, violence, death, sorrow, blood, poverty, misery, and tears. Our cup of sorrow is permanently full; hence the exponential rise in the frustration curve across the country.
Sadly, human life is hemorrhaging so badly in Nigeria, but the greatest tragedy is the death of empathy from those in power. Mysteriously, the government is investing billions of naira in rehabilitating so-called Boko Haram repentant members and their other partners in crime in the belief that they want to turn a new leaf. These criminals have waged war against their country, murdered thousands of citizens, destroyed infrastructure and rendered entire families permanently displaced and dislocated. Why should rehabilitating the perpetrator be more important than bringing succour to the victims?
When kidnapped or killed, victims and their families are left to their wits. They cry alone, bury their loved ones alone. And our government expects us to be patriotic? The victims of violence need empathy, which the dictionary defines as the ability to understand and share the feelings of the other. A critical deficit of empathy on the side of the government makes healing almost impossible for the victims. We have not heard anything about a rehabilitation programme for the thousands of schoolchildren who have been victims of abduction. We seem to assume that their return to their schools is sufficient. Left unaddressed, the traumatic effect of their horrors will haunt them for a long time. Tomorrow's parents, military generals, top security men and women, governors, senators, and ministers will come from today's pool of traumatised children. The security quandary is the greatest indictment of this government.
There is a time for everything under the sun (Ecclesiastes 3:1). Perhaps, we can paraphrase this by saying there is a time for war and a time for peace. There is a time for poverty and a time for wealth. There is a time for stealing and a time for returning what has been stolen. There is a time for politics and a time for governance. There is a time for tethering to the brink of chaos and a time for recovering the soul of a nation. There is a time for the collapse of morality and a time for moral recovery. There is a time for leadership and a time for statesmanship. There is a time for losing greatness and a time for achieving greatness. Nigeria must now ask itself: What is left of our glory? Where are the values that held us together?
On our national Coat of Arms, we profess our motto to be: Unity and Faith, Peace and Progress. But let us ask ourselves: Is Nigeria united today? Do citizens still have faith in the country? Where are the signs of peace or progress? Today, before our very eyes, these words have been emptied of their flavour and have lost their resonance and capacity to summon our citizens to patriotism. St. Augustine once said: Remove justice, and what are kingdoms but gangs of criminals on a large scale? He further said that: A gang is a group of men (and women) under the command of a leader, bound by a compact of association, in which the plunder is divided according to an agreed convention. This is the fate of our nation today. Day by day, Nigeria drifts irreversibly into a dark tunnel. Things are falling apart with unnerving rapidity because those who govern have only a pact to protect their interests. Politics is merely its conveyor belt of ambition. Nigeria has a date with destiny. If we do not turn around, The axe is already laid to the roots of the tree (Matthew 3:10).
With some chance, we might pull through this, but it is getting tougher each passing day. Does anyone remember where we started and how we got here? On May 29, 2015, General Muhammadu Buhari (rtd.), at his swearing-in as President of Nigeria, said: Boko Haram is a typical case of small fires causing large fires. Now, before his watch, the fires are consuming the nation, and in many instances, they indeed start small. The rumblings over the wearing of a hijab in Kwara State suggest that we have not seen the end of individuals sacrificing national cohesion to feed their personal ambitions by starting small fires. Most politicians hardly think through the long-term effects of these pyrrhic victories of using religion. What started as a small fire with the adoption of Sharia in Zamfara in 1999, spread across the northern states. Ordinary people broke into ecstatic joy. Today, what has become of the North? What are the lessons?
In all, Nigeria's troubles are growing by the day, but our hands must remain stretched out in supplication. Prophet Isaiah's words should give us hope and consolation. He said: When you pass through the waters, I will be with you; and when you pass through the rivers, they will not sweep over you. When you walk through the fire, you will not be burned; the flames will not set you ablaze (Isaiah 43:2). We shall lift our eyes to the mountain because we know that our help shall come from the Lord (Psalm 121:1). As Christians, we do not trust in God because we cannot revenge. We do not revenge because we trust in God. The Lord will fight for you; you need only be still (Exodus 14:14). Just as the chains of death could not hold Jesus in the grave, so shall we triumph. Break into shouts of joy together, O ruins of Jerusalem; for the Lord has consoled his people, he has redeemed Jerusalem (Isaiah 52:9). Have hope and be cheerful (Romans 12:12). A very happy and peaceful Easter to everyone.

Exposed: Number Of Escapees, Recaptured Inmates After Gunmen Attacked Oyo Prison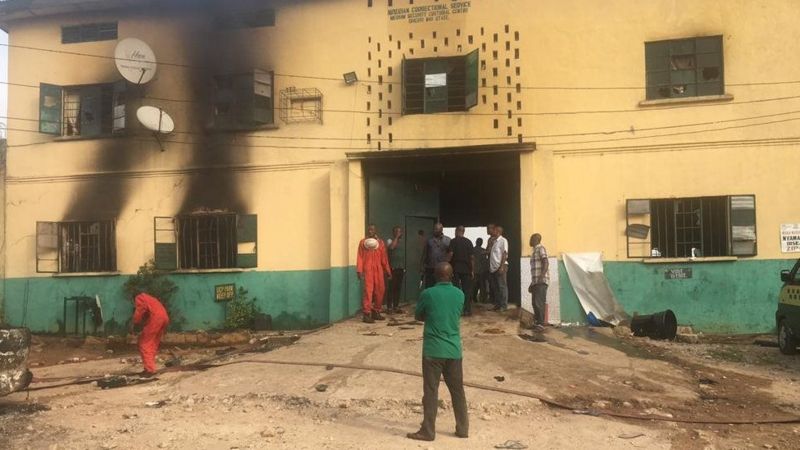 Oyo State Command of the Nigeria Correctional Service (NCS) has reacted to the invasion of the Abolongo Correctional Centre in Oyo town around 9:30pm on Friday by gunmen who used dynamite to blast the wall.
Its Public Relations Officer, Olanrewaju Anjorin, in a statement in Ibadan on Saturday, said 837 awaiting trial inmates escaped from the Abolongo Correctional Centre in Oyo Town, when gunmen attacked the facility.
Anjorin said all the 837 awaiting trial inmates were freed by the attackers, pointing out that the cell housing the convicts and the inmates were not vandalised.
The Public Relations Officer, however, disclosed that a total of 262 escaped inmates had been recaptured, while 575 were still at large.
"The invaders arrived the centre heavily armed with sophisticated weapons and after a fierce encounter with the officers on guard, they gained entrance into the yard, using dynamite to blast the wall.
"All the awaiting trial detainees were forced out of custody, the cells housing the convicts and the female inmates were not vandalised.
"Meanwhile, a total of 262 of the escapees have been recaptured, leaving 575 still at large.
"Following the directives of the Controller-General of Corrections, Haliru Nababa, the State Controller, Noel Ailewon, has commenced the process of search and recapture after visiting the scene of the incident," he said.
Anjorin said the state controller had assured the public that no effort would be spared to recapture the fleeing inmates.
According to him, the controller-general has solicited for credible intelligence to assist the security agencies in tracking down the fleeing inmates.
The PRO said that the Oyo Custodial Centre was established in 2007 with a capacity of 160 inmates, but had a total population of 907 at the time of the attack.
"Of this number, awaiting trial persons were 837 representing 92 per cent with just 64 convicts," Anjorin said.
'Buhari's Army Only Mighty On Paper, Steal And Sell Weapons To Terrorists'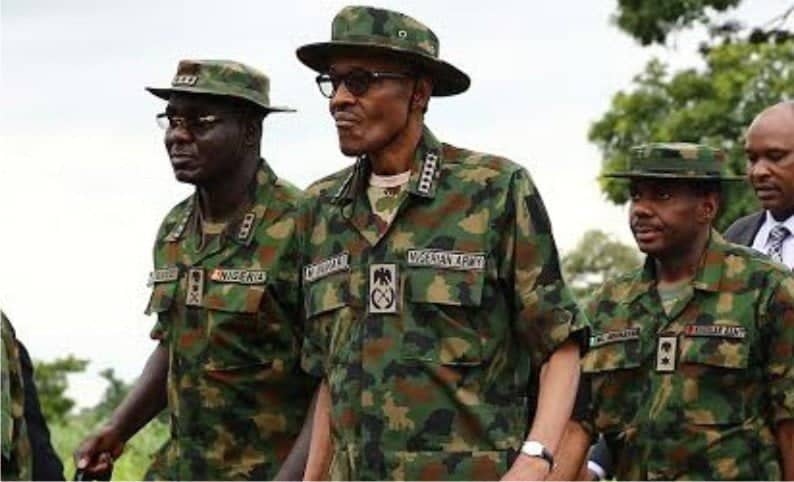 A London Newspaper, The Economist, had berated the Muhammadu Buhari-led federal government over its handling of Nigeria's economy.
In its editorial titled: 'The crime scene at the heart of Africa' the paper located at number 1-11 John Adam Street Westminster, London, England, the paper accused the federal government of doing little or nothing to change the lives of Nigerians.
While insisting that the Nigerian Army was only, the Economist stated that many of its soldiers are "ghosts" who exist only on the payroll, adding that much of its equipment is stolen and sold to insurgents.
According to the paper, the Nigerian Police Force, NPF, are understaffed, demoralised and poorly trained.
The Economist stated that many supplement their low pay by robbing the public they have sworn to protect.
Read the full editorial below:
The crime scene at the heart of Africa
Insurgency, secessionism and banditry threaten Nigeria
Africa's biggest nation faces its biggest test since its civil war 50 years ago
"Little more than six decades ago, as Nigeria was nearing independence, even those who were soon to govern Africa's largest country had their doubts about whether it would hold together. British colonists had drawn a border around land that was home to more than 250 ethnic groups. Obafemi Awolowo, a politician of that era, evoked Metternich, fretting that "Nigeria is not a nation. It is a mere geographical expression."
"The early years of independence seemed to prove him right. Coup followed coup. Ethnic pogroms helped spark a civil war that cost 1m lives, as the south-eastern region calling itself Biafra tried to break away and was ruthlessly crushed. Military rule was the norm until 1999. Despite this inauspicious start, Nigeria is now a powerhouse. Home to one in six sub-Saharan Africans, it is the continent's most boisterous democracy. Its economy, the largest, generates a quarter of Africa's gdp. Nollywood makes more titles than any other country's film industry bar Bollywood. Three of sub-Saharan Africa's four fintech "unicorns" (startups valued at more than $1bn) are Nigerian.
"Why, then, do most young Nigerians want to emigrate? One reason is that they are scared. Jihadists are carving out a caliphate in the north-east; gangs of kidnappers are terrorising the north-west; the fire of Biafran secessionism has been rekindled in the oil-rich south-east. The violence threatens not just Nigeria's 200m people, but also the stability of the entire region that surrounds them.
"Readers who do not follow Nigeria closely may ask: what's new? Nigeria has been corrupt and turbulent for decades. What has changed of late, though, is that jihadism, organised crime and political violence have grown so intense and widespread that most of the country is sliding towards ungovernability. In the first nine months of 2021 almost 8,000 people were directly killed in various conflicts. Hundreds of thousands more have perished because of hunger and disease caused by fighting. More than 2m have fled their homes.
"The jihadist threat in the north-east has metastasised. A few years ago, an area the size of Belgium was controlled by Boko Haram, a group of zealots notorious for enslaving young girls. Now, Boko Haram is being supplanted by an affiliate of Islamic State that is equally brutal but more competent, and so a bigger danger to Nigeria. In the south-east, demagogues are stirring up ethnic grievances and feeding the delusion that one group, the Igbos, can walk off with all the country's oil, the source of about half of government revenues. President Muhammadu Buhari has hinted that Biafran separatism will be dealt with as ruthlessly now as it was half a century ago.
"Meanwhile, across wide swathes of Nigeria, a collapse in security and state authority has allowed criminal gangs to run wild. In the first nine months of this year some 2,200 people were kidnapped for ransom, more than double the roughly 1,000 abducted in 2020. Perhaps a million children are missing school for fear that they will be snatched.
"Two factors help explain Nigeria's increasing instability: a sick economy and a bumbling government. Slow growth and two recessions have made Nigerians poorer, on average, each year since oil prices fell in 2015. Before covid-19, fully 40% of them were below Nigeria's extremely low poverty line of about $1 a day. If Nigeria's 36 states were stand-alone countries, more than one-third would be categorised by the World Bank as "low-income" (less than $1,045 a head). Poverty combined with stagnation tends to increase the risk of civil conflict.
"Economic troubles are compounded by a government that is inept and heavy-handed. Mr Buhari, who was elected in 2015, turned an oil shock into a recession by propping up the naira and barring many imports in the hope this would spur domestic production. Instead he sent annual food inflation soaring above 20%. He has failed to curb corruption, which breeds resentment. Many Nigerians are furious that they see so little benefit from the country's billions of petrodollars, much of which their rulers have squandered or stolen. Many politicians blame rival ethnic or religious groups, claiming they have taken more than their fair share. This wins votes, but makes Nigeria a tinderbox.
"When violence erupts, the government does nothing or cracks heads almost indiscriminately. Nigeria's army is mighty on paper. But many of its soldiers are "ghosts" who exist only on the payroll, and much of its equipment is stolen and sold to insurgents. The army is also stretched thin, having been deployed to all of Nigeria's states. The police are understaffed, demoralised and poorly trained. Many supplement their low pay by robbing the public they have sworn to protect.
"To stop the slide towards lawlessness, Nigeria's government should make its own forces obey the law. Soldiers and police who murder or torture should be prosecuted. That no one has been held accountable for the slaughter of perhaps 15 peaceful demonstrators against police abuses in Lagos last year is a scandal. The secret police should stop ignoring court orders to release people who are being held illegally. This would not just be morally right, but also practical: young men who see or experience state brutality are more likely to join extremist groups.
Things don't have to fall apart
"Second, Nigeria needs to beef up its police. Niger state, for instance, has just 4,000 officers to protect 24m people. Local cops would be better at stopping kidnappings and solving crimes than the current federal force, which is often sent charging from one trouble spot to another. Money could come from cutting wasteful spending by the armed forces on jet fighters, which are not much use for guarding schools. Britain and America, which help train Nigeria's army, could also train detectives. Better policing could let the army withdraw from areas where it is pouring fuel on secessionist fires.
"The biggest barrier to restoring security is not a lack of ideas, nor of resources. It is the complacency of Nigeria's cosseted political elite—safe in their guarded compounds and the well-defended capital. Without urgent action, Nigeria may slip into a downward spiral from which it will struggle to emerge."
Charges Against Nnamdi Kanu Mere Speculations, Won't Stand In Court – Ifeanyi Ejiofor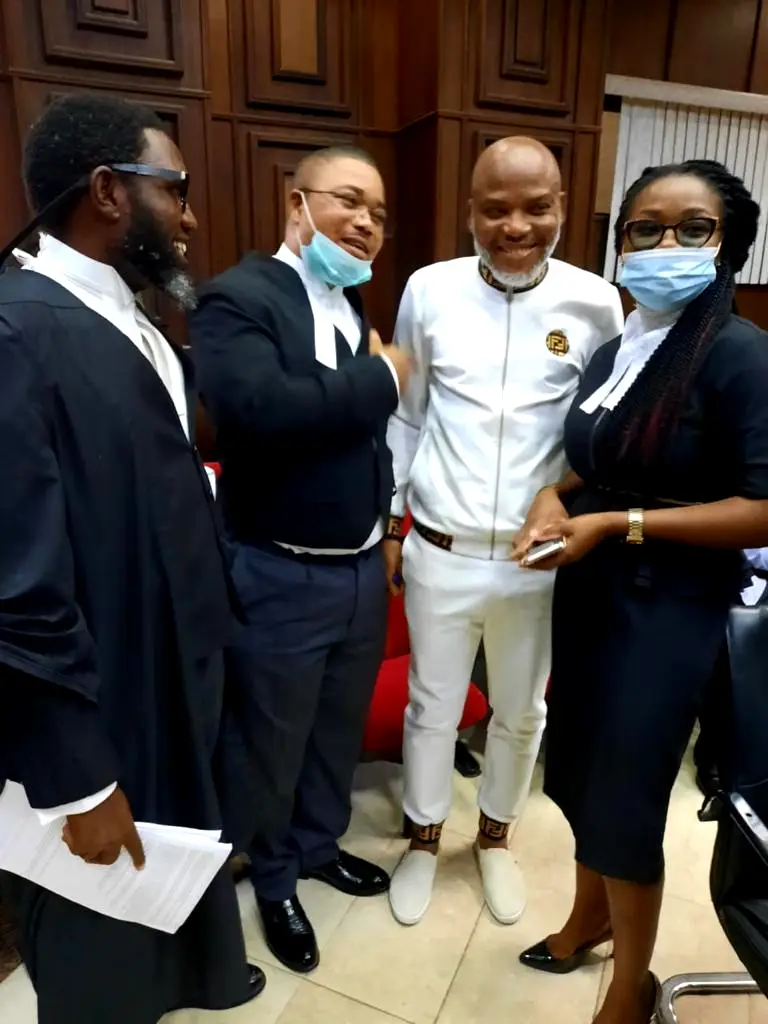 The lead counsel of Nnamdi Kanu, the embattled leader of the Indigenous People of Biafra (IPOB), Ifeanyi Ejiofor, has rubbished the charges against his client.
Recall that journalist and individuals were barred from witnessing the trial of Nnamdi Kanu on Thursday.
Following the trial, AGF Abubakar Malami had in a press conference accused Nnamdi Kanu of killing Dr Chike Akinyuli and former presidential aide, Ahmed Gulak.
The AGF also accused the Kanu-led IPOB of attacking 164 police stations and killing 175 security operatives across the country, stating that a Presidential Ad-hoc Committee which was inaugurated by President Muhammadu Buhari to investigate activities of the IPOB came up with the figures.
He noted that 175 security personnel killed comprised of 128 Policemen, 37 military personnel and 10 other security operatives.
The minister alleged that Kanu's broadcasts fuelled the #EndSARS protests that led to the destruction of public facilities, including the attack on the Oba of Lagos.
Malami said Kanu is not alone in his operations but has been receiving help from some individuals, countries and organizations sympathetic to his cause.
Reacting in a post on his Facebook page, Ejiofor stated that most of what Malami accused Nnamdi Kanu of has been addressed by the IPOB's leader counsel.
According to the pro-Biafra activist lawyer, he would ensure their is media presence, going forward, in the courtroom during the hearing of the IPOB leader's case.
He wrote, "Henceforth, No Hearing will be conducted in our Client's case without media present, we shall insist, come 10th November 2021."
"After a robust outing of 21st October, and strong objection raised to the empty charge, the narratives changed.
"Note that the media has been awashed with this false narrative right from the very first day our client was extraordinarily renditioned to Nigeria, even before the amended seven charges were filed twice.
"Their seven counts were amended twice upon being served with our Preliminary Objection. Remember that the facts they substantially relied upon in their purported amended charge, dwelt much on this speculation as you saw in their press statement.
"In all, I implore you all to remain calm, peaceful and focused, your eyes should always be on the ball, because we will demystify them only in law court. They cannot place something on nothing and expect it to stand, it must fail woefully!"