Biafra: Nnamdi Kanu Reveals Relationship With Boko Haram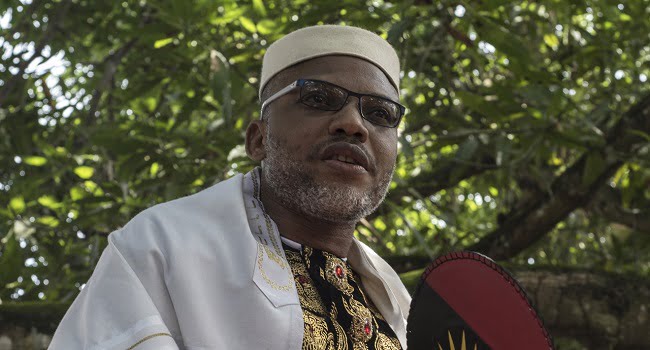 The leader of the proscribed Indigenous Peoples of Biafra (IPOB), Nnamdi Kanu has revealed that he doesn't condemn the activities of Boko Haram too much because it was the government of Nigeria that made them violent.
Kanu submitted that Boko Haram started as a peaceful group before the government unleashed soldiers and police on them, which in turn made them turn to violent terrorists and insurgents, and that is why he is always careful not to attack or blame them.
Making reference to his own IPOB organization, Kanu alleged that the government has a way of making peaceful organizations turn violent.
He however warned that IPOB won't be forced into submission but will continue to forge ahead with plans to achieve a sovereign state of Biafra.
Naija News understands the IPOB leader made the submissions during his live broadcast on Tuesday.
Blaming the Nigerian government for the violent activities of Boko Haram including their killings, Kanu said: "Boko Haram was a peaceful movement until Nigeria Police started killing them. That's why I'm measured in my criticism of Boko Haram. They were peaceful. It was Nigeria Police and Army that kept killing them to the point when they now turned violent."
He, however, added that IPOB would never compromise its stand but would continue to push and fight for what it believes.
Kanu added that even if southeast leaders and politicians don't support IPOB, the dream of actualizing Biafra will still become a reality.
"We are going to stand up for our rights to be free. We are not subjects of the Fulani caliphate. Many people can subscribe to that, but not this IPOB that I lead. Not now, not tomorrow, not ever.
"You know they call us toothless bulldogs, that they are online, they can't do anything. And I agree with you. If these toothless bulldogs can be doing this when they have no teeth, imagine when they grow teeth, what will happen?" he declared.
Meanwhile, bandits have attacked the residence of former Minister of Sports, Damishi Sango, in Danwal in Riyom Local Government Area of Plateau State.
Naija News gathered the bandits attacked Sango's residence around 9:00 pm on Wednesday, killing a boy and two security details. and
Confirming the attack, Spokesman of the Plateau Police Command, ASP. Gabriel Ubah, said many people were injured during the attack, adding that the bandits also carted away rifles belonging to the policemen.
Ubah disclosed that the victims of the attack have been rushed to the hospital where they are receiving treatment.
He, however, noted that the former Minister and his family are safe and unhurt.