Thief Trapped In Church Wall After He Broke In To Steal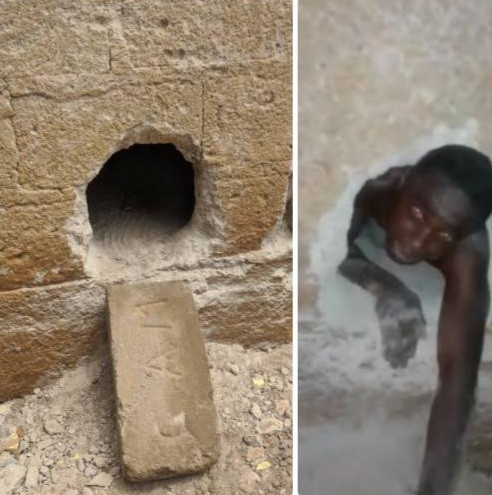 A thief, identified as Agyasuo has been trapped in the wall of a Catholic Church building in Techimantia, Tano South, Ghana, while trying to rob.
It was gathered that the suspect created a hole in the church building with a chisel and hammer.
It was further reported that residents of the church environment saw Agyasuo while trying to gain access to the church but chose to wait and watch what the outcome of his action would be.
Agyasuo after gaining access to the church, stole some money and mobile devices.
Unfortunately for him, he couldn't go out the same way he came in and residents alerted the caretaker of the building after he had been there for a while.
The caretaker opened the door and found the suspect trapped inside the hole.
The residents collected the offering from Agyasuo, as he pleaded with them to let him out.
He was also reportedly caught with a bag containing packed phones, computer and accessories he had gathered from the church.
See the video below:
Thief caught while trying to escape from a hole he made to rob in a church pic.twitter.com/jUhLG0sigO

— Dman (@AdeniyiDman) March 30, 2021