Tinubu: Ganduje Setting The Pace In Anti-Corruption Fight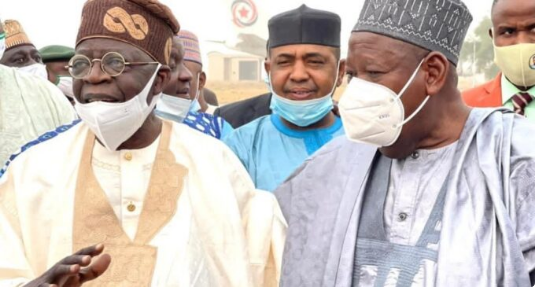 The National Leader of the All Progressives Congress (APC) Asiwaju Bola Tinubu has commended Kano State Governor, Abdullahi Ganduje for his anti-corruption strides in the state.
Tinubu noted that Ganduje should be commended for strengthening the anti-corruption institutions in the state and working towards making the society corruption-free.
The APC National Leader made the submission on Sunday when he commissioned the Kano State Public Complaints and Anti-Corruption Commission's new office.
He lauded Ganduje as someone championing the fight against corruption in Nigeria.
In his words, "This is a welcome development indeed and we salute the governor for this encouraging effort."
"In ensuring Nigeria becomes a member of a committed international community that frees us from the burden of corruption, this and similar edifices could play an important role in that.
"To a lot of us looking forward to a prosperous, corruption-free Nigeria and Africa, today is dedicated to that objective."
However, the public is quick to recall the corruption allegation hanging around Governor Ganduje's neck as it relates to the 2018 viral videos in which he was seen stuffing dollars into his cloth in what is widely believed to be bribe paid by contractors for projects awarded in the state.
Recently, the Governor denied the allegation again saying the videos are fake and that an underground investigation is ongoing on the matter.
He added that those behind the video wanted to block his reelection bid but they failed and will be dealt with according to the law when investigations are completed.
Meanwhile, former Vice President, Atiku Abubakar, on Monday, commended the National Leader of the All Progressives Congress, Bola Tinubu, for the part played in restoring and promoting democracy in Nigeria.
The former presidential candidate of the Peoples Democratic Party claimed that he and the former Governor of Lagos State have come a long way in restoring democracy in the country.
Atiku stated on his Twitter account on Monday while celebrating Tinubu on his 69th birthday.