Police Allegedly Shoot Truck Driver To Death In Plateau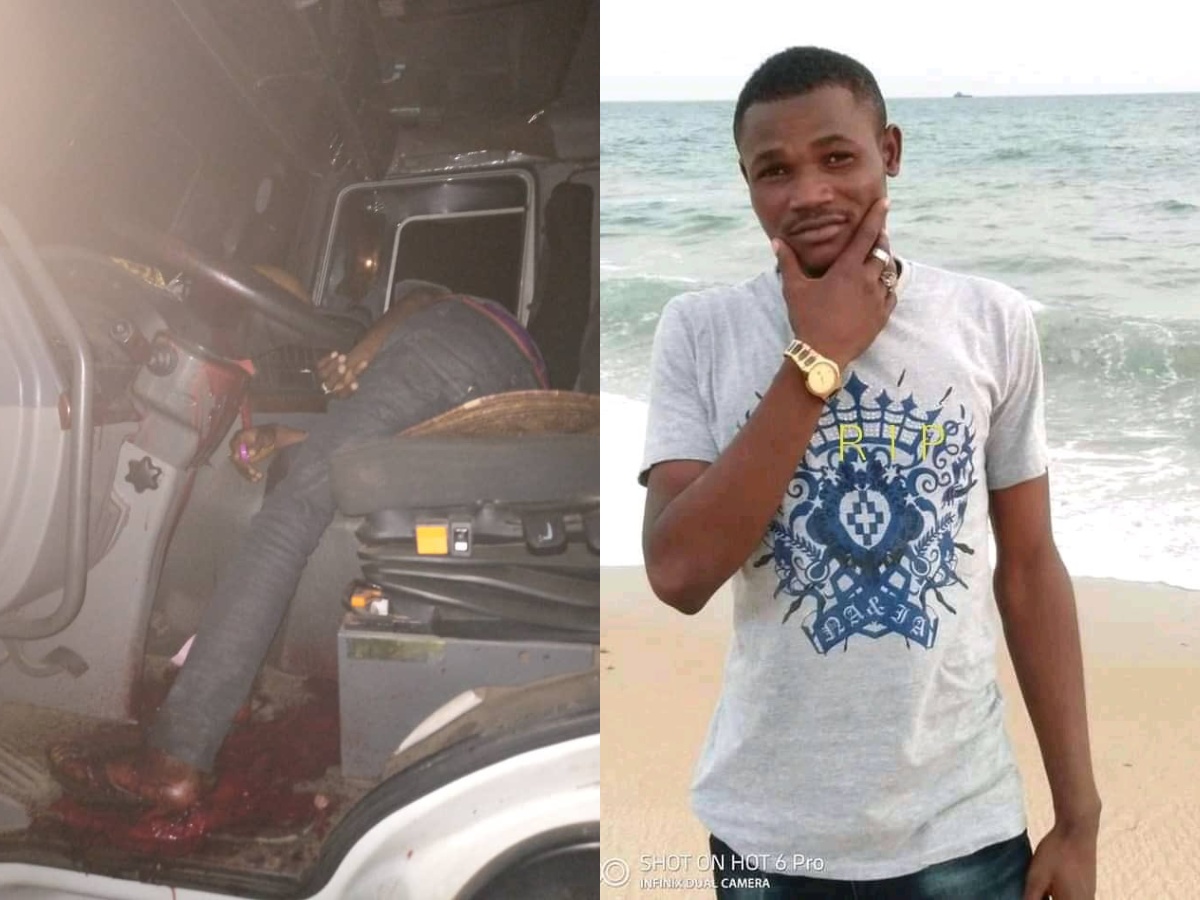 Some officers of the Plateau State Command of the Nigeria Police Force, have been condemned over the alleged killing of one Saddam Adam.
It was gathered that the truck driver was shot dead by officers on patrol at the Kuru checkpoint in Jos.
Adam's death was made public via a social media post by a Twitter user, Heisenberg [@Hie_zinberg], who indicated that the truck driver's death last Thursday was unprovoked, Naija News reports.
His tweet reads: "This is Saddam Adam, a truck driver for BHN Logistics, Port Harcourt. He was shot dead, unprovoked, by a policeman of the @PoliceNg yesterday at Kuru Checkpoint in Jos, Plateau state according to several eyewitnesses. We demand justice for Saddam. @AmnestyNigeria @NhrcNigeria."
The victim could be seen inside the said truck in the pool of his blood from the pictures attached to the post by the netizen. Responding to the disturbing development, the police through their Twitter handle, @PoliceNG_CRU, noted that the complaint had been taking and investigation has been initiated.
The incident, however, stirred a barrage of reactions as netizens accused the police of taking citizen's lives daily without remorse. Reacting to Adam's death one Mr P. Sewen [@IbitokunSewen] on the micro-blogging platform admonished youths to avoid unnecessary arguments with corps so they would not have to waste their lives for vain sake.
He tweeted: "I am saying this to all youths, please don't let any frustrated policeman kill u, don't argue with them if you don't have "ayeta or odeeshi" but if you have one let him shoot you first and then deal with him mercilessly. Because the worst they will do to him is to "redeploy" him.
On his part, another netizen identified with the username @Adedamo63048720, wrote, "The impunities continues…The entire @PoliceNG structure supports the killings of innocents citizens hence the persistence, we expect No Justice as usual, but the time will come, the day of reckoning is near. RIP Adam. God bless your soul."
See police response to Adam's alleged killing by the force men below:
Your complaint is hereby acknowledged and investigation has been initiated. Your tracking number is #CRU174657, Thank you for contacting NPF-CRU. https://t.co/LX00OHYOOw

— POLICE COMPLAINT (@PoliceNG_CRU) March 27, 2021
Meanwhile, Kano State Police Command and the Consumer Protection Council on Friday rewarded two police officers with N1 million for rejecting the same amount of money offered to them as a bribe.
Information gathered revealed that Garba Rabo and Jamilu Buhari were serving on the task force of the Consumer Protection Council (CPC) in the state when they were bribed.