Soldiers Fight Dirty To Avoid COVID-19 Vaccine [VIDEO]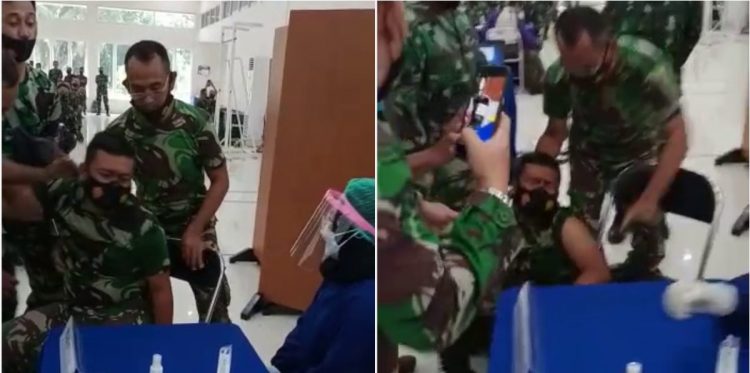 A video has emerged of a soldier in one of the Asian countries creating a drama that depicts him scared of taking the COVID-19 vaccine.
Naija News reports that the soldier had to be dragged by his colleagues to take the vaccine but refused to take it when the nurse approached with the needle.
The soldier refused to receive the COVID-19 vaccine until his colleagues surrendered and allowed him to leave for his seat.
Watch Video Below:
Meanwhile, authorities in Nigeria have announced that more than 250,000 people have been vaccinated against COVID-19 across the country.
The figures released by the National Primary Health Care Development Authority (NPHCDA) on Tuesday show that 215,277 people have been vaccinated in 30 states, including Abuja.
While Lagos State has the highest number of people infected with the virus across the country, it also has the highest number of people vaccinated with 58,461 people.
The vaccinated states include Adamawa (7,407), Akwa Ibom (127), Anambra (132), Bayelsa (552), Binuwe (146), Borno (653), Cross River (948), Delta (915). , Ebonyi (77), Edo (2,645) and Ekiti (1,049).
The other states are; Enugu (956), Abuja (8,616), Gombe (203), Imo (1,908), Kaduna (14,572), Kano (3,903), Katsina (10,002), Kwara (12,016), Nassarawa (6,801), Ogun (19,257), Ondo (4,205), Osun (6,658), Plateau (883), Rivers (1,951), Sokoto (98) and Yobe (5,509).
The remaining unoccupied states are Abia, Zamfara, Kebbi, Niger, Kogi, Taraba and Oyo.