"We Are Not A Terror Group But A Terror Victim Of The Buhari Regime" – Shiites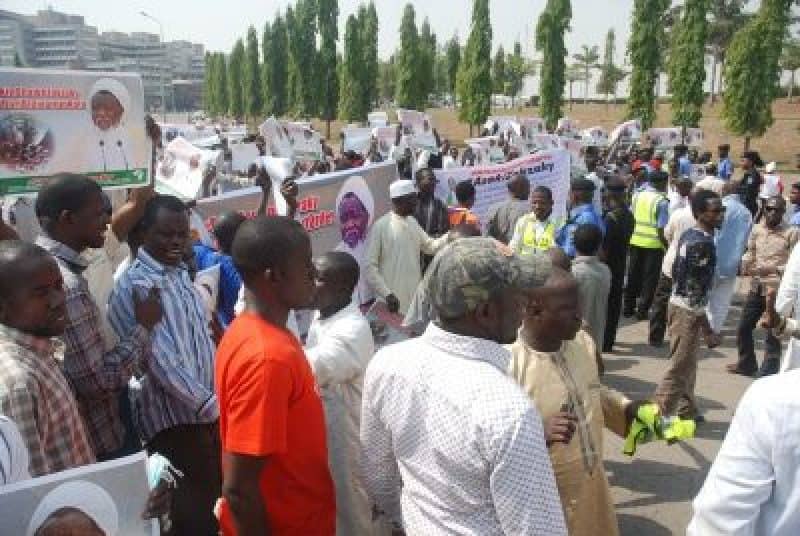 The Shiites group also known as the Islamic Movement in Nigeria (IMN) has denied any link or relationship with the dreaded Boko Haram terrorist group.
The group explained in a statement on Tuesday in Kaduna by the head of its media forum, Ibrahim Musa that it is also a victim of terror from the Boko Haram group.
It added that the group has also suffered a great deal in the hands of the administration of President Muhammadu Buhari.
Naija News understands the IMN reaction follows the allegation by an Indian news channel, WION, that the Shiite group has links with Boko Haram.
The WION in a documentary video about insecurity and terrorism in Nigeria had listed the IMN as part of groups aligned with Boko Haram and responsible for insecurity, criminality and other security challenges in Nigeria.
But reacting to the video, the IMN disclosed that: "Since we are talking of security, it behoves on us to refute a viral video clip packaged by WION news channel, an Indian international English language news owned by Essel Group and part of Zee Media network of channels."
"The almost 9-minute clip was commenting on terrorism in Nigeria, especially as it concerns Boko Haram and banditry in the country."
"The narration was almost hundred percent correct on many issues it raised, but at the tail end of it, it included the Islamic Movement in Nigeria among the terror groups aligned with the dreaded Boko Haram."
"How on earth could the producers of the clip make such a gaffe?" arguing, "Boko Haram and the Islamic Movement are poles apart both in terms of Islamic orientation and methodology."
The movement while emphasizing that it isn't linked with Boko Haram, recalled some attacks on it by the terrorist group.
"In fact, Boko Haram claimed a terror attack staged against the Arbaeen mourners along Kano to Zaria highway, where dozens (of its members) were killed, a confirmation that we are also at the receiving end of its unislamic terror attacks," it recalled.
The statement added that IMN has been a victim of other forms of attack from the federal government of Nigeria led by President Muhammadu Buhari.
"The Islamic Movement in Nigeria has been a victim of state-sponsored terrorism, especially in the about six years of Buhari regime which is still trying to sweep its crimes under the carpet."
"We are not a terror group but a terror victim of the Buhari regime."
It will be recalled that the IMN leader, Ibrahim El-Zakzaky has been in detention and facing prosecution without been released despite several court orders directing the government to release him.