Oduduwa Republic: 'You're An Enemy Of Yoruba People' – Yoruba Group Tackles Akeredolu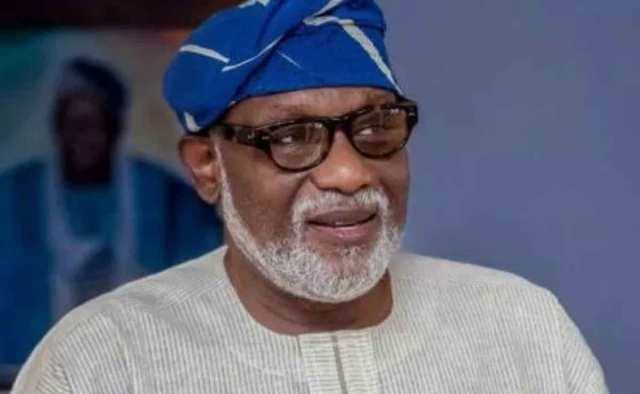 A pan-Yoruba group, Apapo Oodua Koya, on on Tuesday warned the Governor of Ondo State, Rotimi Akeredolu, over his plan to the state from joining agitation for Oduduwa Republic.
The group in a statement released on Tuesday noted that Akeredolu can not determine the fate of Ondo State in the proposed Oduduwa Republic.
Recall that the Ondo State Governor warned Yoruba activist, Sunday Igboho and others agitating for a sovereign Yoruba nation to stay away from the state.
Akeredolu in his statement noted that the people of Ondo State are determined to stay in Nigeria.
The Coordinator of the group, Mufutau Adetoloye, in his reaction said, said Akeredolu represents the All Progressives Congress (APC) and "the vested interests of the Fulani caliphate".
"The APC is not the same as the four million people of Ondo State. There are various logical reasons why you Akeredolu cannot speak on behalf of four million people of Ondo State. You are the elected governor but that does not give you overall legitimacy over the future of the people of Ondo State and their relationship with the greater Yoruba Nation.
"Your mandate is only four years. It does not extend to the right to self-determination of the people of Ondo State as entrenched in international laws," the group said.
It added, "You, Akeredolu, in 2020 compared with registered voters, you had only 15 percent mandate. Legally speaking, you have no legitimacy over the people of Ondo State. With 292,830 votes out of registered voters' population of 1,546,081 voters, you, Akeredolu, are a usurper."
"This is against the background that 99 percent of your votes were stained with corruption and the red ink of illicit money. Voters were bribed to secure your mandate. You have a stolen mandate that has no real legitimacy in a genuinely democratic country."
"The fact that 292,830 people voted for you out of 1,546,081 registered voters is a vote of no-confidence in the rogue process that produced your stolen mandate. You represent fraud. You represent shame and dishonour."
"You represent Nigeria, a country where leaders literarily feed on the blood of their people, a country categorised as the axis of evil, a country that murders innovation and produces leaders through violence, treason, stealing, and unparalleled corruption of the voters."
AOKOYA alleged that Akeredolu is a conscious enemy of Yoruba people who is ready to sell his people to slavery for peanuts.
"One million of you cannot stop an idea whose time has come. You are bragging about a stolen mandate bought with blood money. You sit on a seat stained with the blood of innocent people. You hijacked the legitimacy of the people and you defend it not with the will of the people but with guns and bullets purchased from the sweat of ordinary people."
"The Fulani who funded your campaign have chained you, handcuffed you with fetters of iron, but you cannot equal your fate with the fate of Ondo people. You are a lawyer, educated but you lack common wisdom."
"You are faraway from the fears, aspirations and the resolve of your people to be free. You are in power because the Fulani crooks imposed you on unwilling people. You have no conscience. You know deep in your heart that you paid voters to win the election."
"You should be ashamed of yourself. The fraud you represent is destined to collapse right on your face and you will face the harsh wrath of history at the fullest of time."