Buhari To Play Major Role In Tinubu's 69th Birthday Colloquium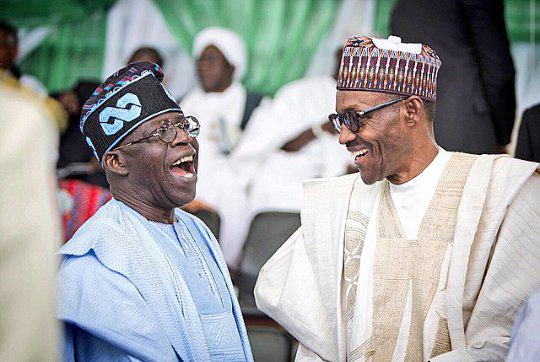 President Muhammadu Buhari will be the chairman of the day during the colloquium to celebrate the 69th birthday of the national leader of the All Progressives Congress (APC), Bola Tinubu.
According to The Punch, Buhari will preside virtually over the event organised by the office of the Vice-President, Yemi Osinbajo .
It was gathered that the theme of this year's colloquium is, 'Our Common Bond, Our Common Wealth: The Imperative Of National Cohesion For Growth And Prosperity'.
The event, the 12th in the series of the Bola Tinubu Colloquium, will hold virtually on Monday, March 29, 2021.
Meanwhile, the acting Leader of Afenifere, the pan-Yoruba socio-political organization, Pa Ayo Adebanjo has berated President Buhari and Bola Tinubu.
Speaking during an interview with The Punch, Adebanjo said Buhari and Tinubu are deceiving each other.
He stated that Tinubu's 2023 presidential ambition would fall through.
"But they are deceiving themselves that Buhari would hand over to him (Tinubu) since they supported him (Buhari)," said Mr Adebanjo. "I have said it openly before, and I would say it again that Buhari is deceiving Tinubu and Tinubu is deceiving Buhari.
"If Tinubu contests the primary in APC today, he will fail."
Adebanjo explained, "I'm not telling you what people say. I want you to write what I say and when it happens, let us see who is right. People talk about an agreement between them, but Buhari is deceiving him, and he (Buhari) has an agenda of his own. All the time we have been shouting that Nigeria would break, what has Buhari said? What has he said to assuage those fears or to tell people it won't happen?
"We just have to keep talking. That is why people are being killed, and he sits in the Aso Rock. People were killed and kidnapped, and he said we should make friends with our neighbours, and another time, it was to appease kidnappers with government money. We are all witnesses. Why are we all living in denial? If the people in government are living in denial, what about the victims? If you live in denial, you will die in it. Young people won't say Adebanjo didn't warn them."