Borno: Why Civilians Can't Return To Dikwa Yet – Nigerian Military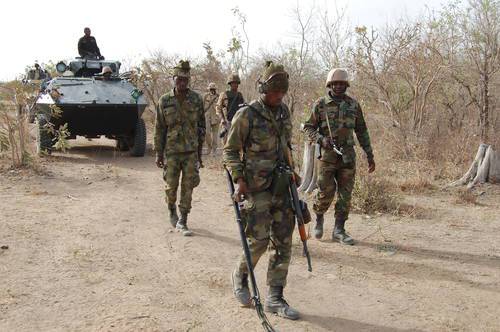 The Nigerian Military has declared that the town of Dikwa, located in the central part of Borno State, is not yet safe for habitation by civilians.
The Coordinator of Operation Safe Corridor, Maj.-Gen. Bamidele Shafa made the submission on Monday in Abuja while speaking at the two-day Northeast Symposium on Reconciliation, Resettlement and Reintegration organized by Centre for Humanitarian Dialogue.
Naija News recalls the town had come under several attacks in recent times and most recently, came under another heavy Boko Haram attack in which some public buildings, including primary health care, local government secretariat, part of Shehu of Dikwa palace and a United Nations hub were all burnt down by the terrorists before troops moved in and reclaimed the area.
But despite the recovery by the troops, military authorities on Monday disclosed that the area is not yet safe for civilians to return.
Shafa said, "I must say it here that the government and people of Borno State have been up and doing, in seeing to successful re-integration of their clients, apart from the last batch that was taking to Dikwa.
"And we all understand that Dikwa is a hot spot now, and it would be dangerous to return these boys back into Dikwa. And that is why the military commander on the camp, in conjunction with the ministry of women of affairs, returned these boys back into Sokari camp until such a time that the situation will be conducive enough for them to return. They were not rejected. I also need to put something out very clearly."
The Operation Safe Corridor Commander also dismissed beliefs that the military re-integrates deradicalized terrorists back into the society, explaining that what they do is to de-radicalize and rehabilitate.
"I need to clarify something. Operation Safe Corridor does not re-integrate. I want to say that again, Operation Safe Corridor does not re-integrate. We de-radicalize, rehabilitate by applying the various therapies that have been put together by the ministries, departments and agencies, experts from them, with the collaboration and supervision of our international partners," he said.
Meanwhile, the United States Government has warned its Nigerian counterpart that terrorist groups, ISIS and Al-Qaeda are planning to penetrate Southern Nigeria.
Commander of the US Special Operations Command, Africa, Dagvin Anderson, made this known during a press conference at the weekend.
He said the groups are looking to make an inroad into Southern Nigeria, this is just as It confirmed that Al-Qaeda has started penetrating the north-western part of the country.
Anderson added that AlQaeda is also expanding to other parts of West Africa, adding that the US will continue to partner with Nigeria in sharing intelligence.
Download NAIJA NEWS app: