Top Nigerian Newspaper Headlines For Today, Monday, 22nd March, 2021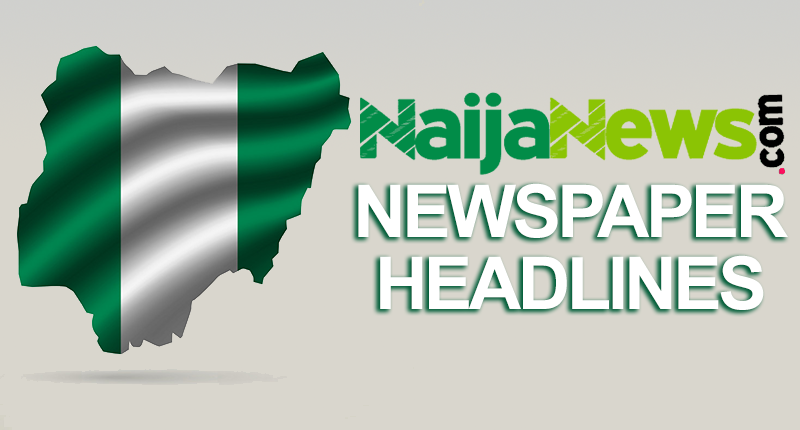 Good morning Nigeria, welcome to Naija News roundup of top newspaper headlines in Nigeria for today Monday, 22nd March 2021
The Muhammadu Buhari-led federal government has kicked against the notice by the Academic Staff Union of Universities (ASUU) to embark on a fresh nationwide strike.
Naija News reports that this is coming barely four months after calling off a 10-month industrial action.
Reacting in an interview with The Punch on Sunday, the Minister of State for Education, Chukwuemeka Nwajiuba, warned that engaging in another strike would be a disservice to students.
He said in part, "Whoever is conceiving a strike after being on a strike for close to one year is damaging the studentship because government is a continuum. Even if we are not in power today, another government, as the case may be, will be there."
A Fulani group has claimed responsibility for the recent attack on Benue State Governor, Samuel Ortom which took place on Saturday, March 20.
The group, identified as Fulani Nationality Movement (FUNAM) claimed in a press statement that its intention was to kill Governor Ortom on Saturday but a slight communication error in its plan saved the Governor's life.
On why it wants Ortom dead, FUNAM in a statement signed by Umar Amir Shehu said Ortom stands against Fulani interests in Nigeria and opposes open ranching of animals.
The group however further threatened that its fighters are still all out to get Ortom and they would ultimately kill the Benue State Governor.
This development comes after the Miyetti Allah Kautal Hore denied being behind the attack on Governor Ortom's convoy along Tyomu community in Makurdi Local Government Area of Benue State.
Alhaji Bashir Tofa has warned the Muhammadu Buhari led-federal government not to ignore the Biafra Customary Government (BCG) proclaimed by Alhaji Asari Dokubo.
Recall that Dokubo, the leader of the Niger Delta Peoples Salvation Force (NDPSF), who noted in the statement he released through Uche Mefor to journalists in Warri on the declaration of a "Biafra de facto customary government" said the time has come for them to take their destinies in their hands, adding that the Igbo people have long suffered injustice and marginalization in Nigeria.
Apart from declaring himself the leader of the customary government, Dokubo also named Uche Mefor as the Head of Information and Communication of the customary government, George Onyibe as Secretary of the group, and Emeka Esiri as the officer in charge of its legal matters."
Former President Olusegun Obasanjo on Saturday stated that he would live the rest of his life serving humanity as a statesman.
Obasanjo made this known while speaking in Abeokuta at the 20th anniversary of the Communion Faith Assembly and new chapel dedication.
The former Nigerian leader disclosed that he arrived from Sudan on Friday night and would be travelling back to the United States on Sunday.
A former aide to ex-president Goodluck Jonathan and 2023 Presidential hopeful, Doyin Okupe, has apologized for his comment on the Igbo presidency.
Okupe had in a post on Twitter on Saturday alleged that the North is yet to forgive the Igbos over the happenings of the 1966 coup during which many high-profile persons including the Sardauna of Sokoto, Sir Ahmadu Bello were killed.
According to him, the North still views the coup as an 'Igbo Coup' and would therefore not support the region to produce the next president of Nigeria.
Okupe added that except the Southern region gets the support of the North, it would be impossible for any Nigerian president to emerge from the East.
Some Nigerians were not happy with his comments, with some accusing him of trying to smear the Igbo presidency campaign due to his presidential ambition.
In a new post on Twitter, Okupe apologized for his comment, expressing regret over his earlier post on Twitter.
Reports have emerged of a supremacy battle between the Islamic State of West Africa Province (ISWAP) fighters and terrorists belonging to the Abubakar Shekau-led Boko Haram faction at Lake Chad.
It was gathered that the clash between the teo groups claimed at least the lives of 54 terrorists and herders within the last one month.
A source told PRNigeria that a group of Buduma militants loyal to Shekau's Boko Haram, on the 3rd of March, embarked on a daring and desperate mission to loot from the ISWAP units.
Continuing, the source said ISWAP elements intercepted some of the Buduma attackers leading to a heavy gun battle at Kaduna Ruwa and Kaiga axis, with heavy casualties on both sides.
Governor Nyesom Wike of Rivers has warned members of the Peoples Democratic Party (PDP) against ganging up against the state ahead of the 2023 general election.
Wike, according to a statement by his Special Assistant, Media, Kelvin Ebiri, spoke at the weekend during the PDP campaign inauguration for the April 17 Local Government election at the Isaac Boro Park, Port Harcourt.
The statement read in part; "Meanwhile, the governor has warned those within the Peoples Democratic Party (PDP) who want to gang up against Rivers State to be circumspect, as no other State has given more votes to the PDP since 1999 than Rivers.
The Miyetti Allah Kautal Hore has denied being behind the attack on Governor Samuel Ortom's convoy along Tyomu community in Makurdi Local Government Area of Benue State.
Naija News had reported that Ortom confirmed that he almost lost his life during an attack on Saturday by some gunmen he described as herdsmen.
The Governor who spoke with newsmen after the incident, narrated that the gunmen, numbering about 15, trailed him and his team to a riverbank when he was on foot before launching the attack.
Ortom's convoy was attacked along Makurdi/Gboko road in Makurdi Local Government Area of Benue but his security team repelled the attack and whisked the Governor to safety.
The Benue Governor blamed the leadership of Miyetti Allah Kautal Hore and called for their arrest.
Speaking to DailyTrust, the National President of the Miyetti Allah Kautal Hore, Abdullahi Bello Bodejo, said Ortom was lying.
He accused the Benue governor of keeping malice against the group because they sued him over the controversial anti-grazing law he enacted in Benue.
A physically challenged man identified as Musa Usman, has revealed how he deceives security operatives at checkpoints to supply hard drugs to bandits, terrorists and other criminals in the country.
The suspect disclosed that he had been transporting hard drugs from Anambra State to Nasarawa State, where he delivers drugs to bandits.
He noted that he puts the cocaine in his pocket or a traveller's bag whenever he has a supply to make.
Usman further stated that because of his disability, security agents at checkpoints usually have pity on him and do not search him.
He said drivers and passengers also show him compassion until he gets to his destination.
Governor Samuel Ortom of Benue State has thanked God for saving him from Saturday's attack by suspected herdsmen.
He stated this on Sunday while speaking at the Redeemed Christian Church of God(RCCG) Signs and Wonders Mega Parish Makurdi, the Benue State capital.
He called on Nigerians with good conscience to save the country from drifting into anarchy and lawlessness.
The governor wondered why an ethnic group would be shielded and allowed to use its militia arm to wreak havoc on perceived enemies.
That's the top Nigerian newspaper headlines for today. Read more Nigerian news on Naija News. See you again tomorrow.