Biafra: Nnamdi Kanu Warns Popular Igbo Traditional Ruler, Miyetti Allah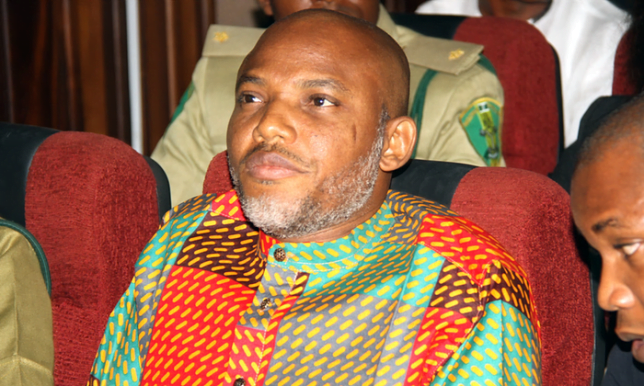 The leader of the Indigenous People of Biafra (IPOB), Mazi Nnamdi Kanu, has warned the Obi of Onitsha, Igwe Achebe.
The pro-Biafra activist warned the traditional ruler against using his office to cause trouble for the Eastern Security Network (ESN) in Onitsha.
Naija News reports that the wanted IPOB leader made this known in a post on his Twitter handle.
Nnamdi Kanu said: "Igwe Achebe, the Obi of Onitsha, MUST not allow his office to be used by Fulani Janjaweed terrorists in Aso Rock to ferment trouble for #ESN around Onitsha and environs, otherwise, it will end in tears for him & his local Miyetti Allah funded vigilante named Onitsha Ado."
Meanwhile, a retired army colonel, Tony Nyiam, has disclosed that President Muhammadu Buhari once revealed that he is from Niger Republic.
Niger Republic is bordered by Libya to the northeast, Chad to the east, Nigeria to the south, Benin and Burkina Faso to the southwest, Mali to the west, and Algeria to the northwest.
Nyiam stated this in an interview with Arise TV a long time ago, which a snippet was shared by former presidential aide, Reno Omokri.
The retired colonel, noted that President Buhari was his boss when he was in the Nigerian Army.
Nyiam added that the President claimed that most of his family members are Nigeriens even though "he owes allegiance to Nigeria."
He added that, "General Muhammadu Buhari was my boss, the General Officer Commanding when I commanded a unit under him. He went against Shagari to defend Nigerian interest against Chadians."
"In one of the briefings, when he was briefing us, he openly told us that most of his family are from Niger and that he is a Nigerian officer and that he owes allegiance to Nigeria."