Assassination Attempt On Me Shows Nigeria Sitting On A Keg Of Gun Powder – Ortom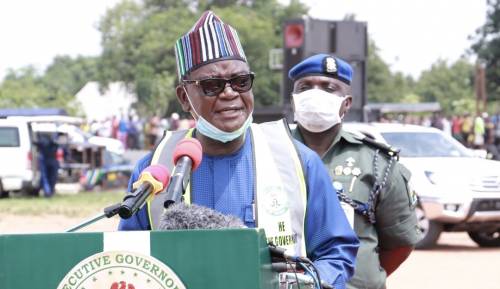 Governor Samuel Ortom on Monday declared that Nigeria is sitting on a keg of gun powder which may soon explode if urgent solutions are not deployed.
The Governor said this when he expressed worries about the level of insecurity in the land which he says is affecting everybody.
Ortom spoke at the end of an emergency State Security Council meeting held in Makurdi, the state capital where he also warned people to desist from politicizing Saturday's assassination attempt on his life.
He however cautioned that the people of the state should remain calm and allow the security agencies to deal with the situation.
"I urge Benue people to be calm because the matter is being investigated and we hope that those behind the attack would be apprehended and prosecuted.
"I also plead with us not to politicize the incident because doing so would not be in the interest of anyone.
While appreciating all those who have shown concern after the attempt on his life, Governor Ortom disclosed that his administration's anti-grazing policy is not targeted at any specific group or individual but based on the principles of fairness and justice.
"I have nothing against anyone or any group, all I am after is fairness, justice, and protection of the rights, wishes, and aspirations of the people who voted me to power.
"The Benue Grazing Law is not targeted at anyone, Benue people wanted it and they are happy with it. "Moreover, it has brought relative peace to our state, so why would anyone kick against it?
"Let's all learn to do the right things to save our country from unnecessary crisis that endangers our unity and peace as a country," he said.
Meanwhile, President Muhammadu Buhari's on social media, Lauretta Onochie, has said the nation's anti-corruption agencies would probe Nigerians who flaunt lifestyles they cannot afford offline and online.
Naija News reports that Nigeria's anti-corruption agencies are the Economic and Financial Crimes Commission (EFCC) as well as the Independent Corrupt Practices Commission (ICPC).
In a post on her Twitter page, Onochie said such persons will be invited by the anti-graft agencies to explain the sources of their wealth and properties.