ACF, M'Belt Forum Condemn Attack On Gov. Ortom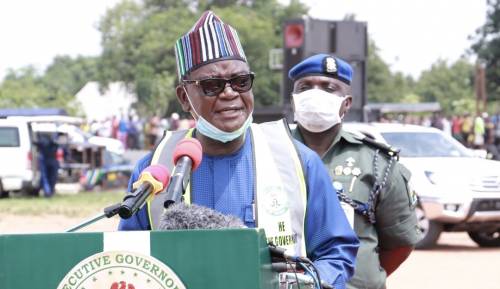 The Arewa Consultative Forum (ACF) and Middle Belt Forum have condemned the attack on Governor Samuel Ortom of Benue State.
Naija News had reported that Ortom confirmed that he almost lost his life during an attack on Saturday by some gunmen he described as herdsmen.
The governor who spoke with newsmen after the incident, narrated that the gunmen, numbering about 15, trailed him and his team to a riverbank when he was on foot before launching the attack.
Ortom's convoy was attacked along Makurdi/Gboko road in Makurdi Local Government Area of the state but his security team repelled the attack and whisked him to safety.
Reacting to the attack, the National Publicity Secretary of the ACF, Emmanuel Yawe, berated those who tried to kill governor Ortom.
Yawe urged the police and other security agencies to rise up and stop the rising insecurity confronting the nation.
He said: "We cannot comment on an issue as serious as the attempt on the life of a governor without adequate information. We, however, condemn those who tried to take the life of Ortom."
Also reacting, MBF spokesman, Dr. Isuwa Dogo, said it was inconceivable that a person of the status of a governor of a state could be attacked in such a brazen manner.
He, however, warned the Fulani herdsmen not to think that they were above the law.
Dogo said, " They (the assailants ) have crossed the redline by making an attempt on the life of Governor Ortom. For us in the Middle Belt, the attack on the Benue governor is tantamount to a coup and a declaration of war on the Nigerian nation because killing a governor who holds a symbol of authority of a state has gone beyond an individual to a crime against the state.
"Before now, we had expected the army, the air force and all other security agents under the control of the Federal Government to see the incident for what it is, a coups d'état, and move in quickly and comb all the forests where those said to be responsible are hiding and apprehend them to face the full wrath of the law. But for this not to have been done up till this moment is a serious error of judgment."