Polytechnic Lecturers Declare Nationwide Strike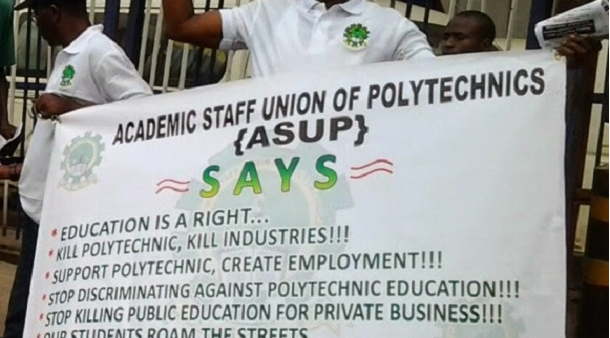 Academic staff of Nigerian public polytechnics under the aegis of the Academic Staff Union of Polytechnic (ASUP) have declared a nationwide strike starting from April 6, 2021.
A statement on the issue by ASUP President, Anderson U Ezeibe at the end of the union's 99th National Executive Council meeting held at the Hassan Usman Polytechnic, Katsina noted that the lecturers have resolved to proceed on strike because the government has refused to attend to their demands.
Ezeibe held that they've had enough about the ''culture of neglect by government on issues affecting the technological education sub-sector.''
Some of the issues listed include the non-implementation of ASUP/FG agreement of 2010, non-payment of salaries, and arrears of the new minimum wage in some state-owned Polytechnics, among others.
He also accused the government of failing to implement resolutions reached with the union after a meeting in October 2020 on the pending issues.
Ezeibe alleged that the government has over the years failed to show any commitment to meeting their demands.
The ASUP president stated that for the union to call off its proposed strike action, 10 conditions which include implementation of the NEEDS Assessment report of 2014, reconstitution of the Governing Councils of Polytechnics, the release of Promotional areas in federal Polytechnics, among others must be done by the government.
Meanwhile, Kaduna State Governor Nasir el-Rufai has said recent attacks by kidnappers for ransom in the state pose a threat to education.
The governor stated that said unlike some northern states that have been facing insecurity due to security concerns, Kaduna State would not close its schools.