Fani-Kayode Threatens To Sue Punch Newspaper For N6billion For Exposing Assault Video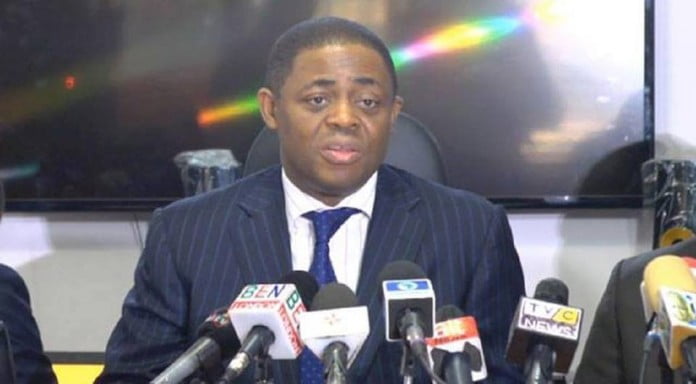 The Minister of Aviation under the Goodluck Jonathan administration, Femi Fani-Kayode, has threatened to sue Punch Newspaper for releasing his assault video.
Fani-Kayode in a letter forwarded to the news platform through his lawyer, Adeola Adedipe, alleged that Punch was financially induced to release the tape and also failed to contact him.
The former minister in the letter is asking for an N6 billion negotiation, the failure of which he would proceed to court.
The letter is addressed to the Managing Director, Punch Newspaper, Federal Capital Territory, Abuja (sic) and titled, "Letter of intent to sue: Defamation of Chief Femi Fani-Kayode by the Punch Newspaper, alongside her sponsors – Ms Precious Chikwendu and Prisca Chikwendu."
It partly reads, "Our client is Chief Femi Fani-Kayode. He has instructed us to notify you of his intention to activate judicial machinery against your outfit for civil and criminal libel. Known to you in recent times, is the embroiled battled between our client and his estranged wife. You are also aware of the civil suit which she (Ms Precious Chikwendu) commenced against him at an Abuja High court for custody of their children."
"Considering your pride of place, as the fourth estate of the realm, it is expected that you will furnish the unsuspecting public with balanced information, devoid of malice and personal gains."
"Presently, our client strongly feels that your outfit has compromised this sacred role, for reasons not unconnected to financial inducement. This is because on March 18, 2021, certain demining videos were authorised for release to the public stream on your Facebook platform, for onward consumption by millions of people around the globe."
"You are quite aware that the persons who feature in the videos are our clients' erstwhile domestic staff who had left his employ since 2018 and 2019. It is our clients; belief that if you were operating within the realms of professionalism, your outfit would have crosschecked these facts with him in order to ensure balanced reportage."
"However, for whatever it is worth you may wish to enter negotiation with us for the sum of N6 billion naira as a token amount for penitence, apologise on the platform to our client which you made available to scandalise him and thereafter assist the police with the investigation. You have seven days from the receipt of this letter to mitigate the highlighted wrongs in the above terms. Should you fail to do so, we shall proceed to seek the appropriate redress in court."
Recall that a former domestic staff to Fani-Kayode accused him of abusing her during her time working at his house in 2017.
In a video obtained by The Punch, the former staff also accused the Peoples Democratic Party (PDP) chieftain of allegedly making advances towards her.
Download NAIJA NEWS app: