Man Burns To Death 11-Year-Old Stepson Over Feud With Lover – [Photos]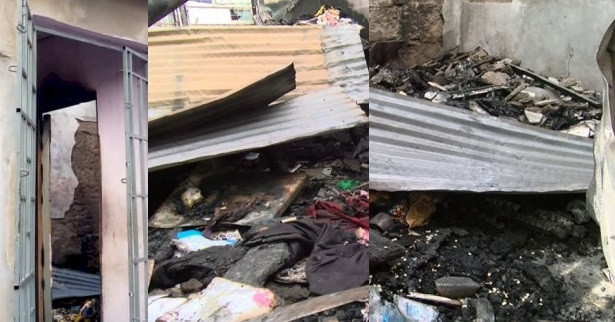 Residents of Meduma in the Kwabre East Municipality in Ghana have been left in tears and confusion after a man allegedly killed his stepson in a house fire.
The man whose name was given as Agyemang reportedly sprinkled petrol in the room where his fiance and her children were resting and set it ablaze.
Naija News understands that the mother of the deceased and her two other children are currently treating severe wounds from the fire incident. Confirming the incident, the owner of the house, Daniel Opoku alleged that the 45-year-old suspect had been having misunderstandings with his fiancee whom he had been living with before the incident happened.
Mr Agyemang reportedly committed the crime on Tuesday, March 16.
Mr Opoku while narrating the incident revealed that he was only able to save the woman and the two other children but could not rescue the other child due to the intensity of the fire.
He said: "I heard the scream and shouts around 12:00 am as she repeatedly kept saying she was dying. She said Agyemang was killing her because he sprinkled petrol and set the room they were in ablaze."
"So I woke and went to the room where they were, and I saw the fire spreading. So I opened the room and brought her and the two other children out, but I could not bring the other boy out due to the intensity of the fire."
Firefighters were reportedly contacted immediately, but they could not get to the house due to the nature of the road. However, the suspect, his fiancée, and the two children are reportedly on admission at the Komfo Anokye Teaching Hospital while the remainder of the eleven-year-old child has also been deposited at the Ankaase Methodist Hospital.
Meanwhile, the Commissioner of Police Lagos State, Hakeem Odumosu, has adopted a day-old baby rescued at Oladejo Street, Oko Oba Lagos on Monday.
Naija News reports that the baby was found by a good samaritan who informed the police operatives attached to the Abattoir Division of the command.
Source: Naija News