40-Feet Container Fell Off A Trailer And Crashes Several Cars In Lagos -[Videos]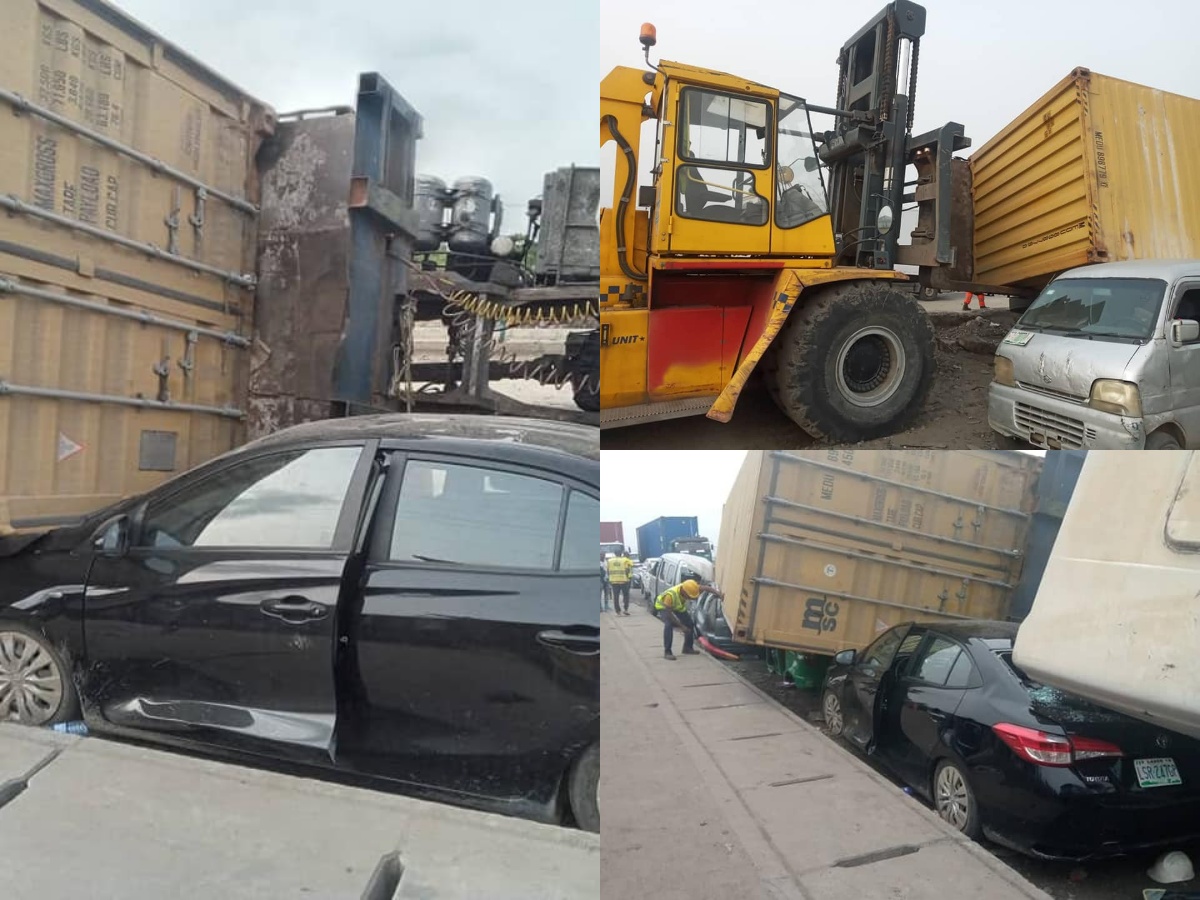 Many have been left astounded as no person died after a container tanker fell off from a trailer and crashed several cars in Lagos State.
Naija News understands that the incident happened on Monday, March 15 at Barracks bustop inward Trade Fair in Lagos.
Confirming the incident on its official Twitter handle a few hours ago, the Lagos State Emergency Management Agency-LASEMA, said the agency received "distress calls at the wee hours of Monday, 15th March 2021 via its toll-free line 112/767 regarding a truck accident at Barracks Bus-Stop inward Trade Fair which revealed that the accident was caused due to reckless driving of the driver, hence the container lost balance and fell on the vehicles obstructing 80percent of the road."
LASEMA confirmed that no loss of life nor injuries were recorded at the scene of the incident. Naija News understands that the incident witnessed the response of the LASEMA Team, the Nigeria Police, the Nigerian Army, Ojo Cantonment 81 Division and passersby.
Subsequently, the Agency's heavy-duty equipment, Goliath II, and the Light Tow-trucks were used to evacuate the affected cars, clear off the road and restore traffic normalcy.
See a video from the scene as shared by LASEMA below:
UPDATE : LASEMA IN RECOVERY OF TRADE FAIR FALLEN CONTAINER

The Response Team with the aid of the Agency's Heavy-duty equipments, Super-Metro, Goliath and Tow-trucks recovered and evacuated the affected vehicles from under the container and towed to Onireke Police Station. pic.twitter.com/C0lVG5RMVY

— Lagos State Emergency Management Agency (@followlasema) March 15, 2021
Meanwhile, a fuel tanker accident in Akwa Ibom State on Monday, March 15, reportedly claimed no fewer than seven lives, including school children.
Many other persons were said to have escaped the accident with severe injuries, Naija News reports.