I Will Win 2023 Presidential Election — Okorocha Boasts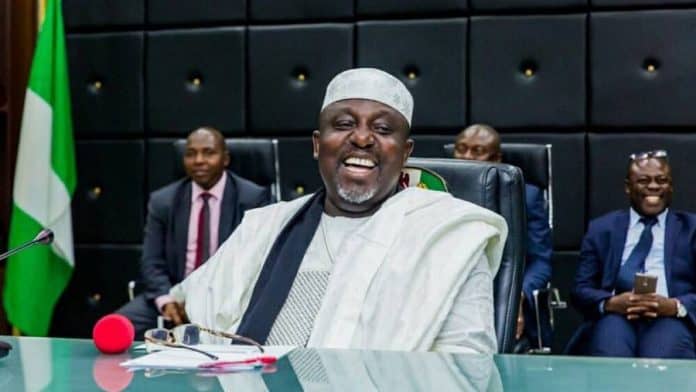 The lawmaker representing Imo West Senatorial District in the National Assembly, Senator Rochas Okorocha has assured his supporters of contesting and winning the 2023 presidential election.
The former Imo governor made this known when he received a group of youth under the umbrella of 'Forward with Anayo Rochas Okorocha (FOWARO 2023)' in his office in Abuja on Thursday.
Okorocha said he is the right man to bring the nation out of her current challenges, adding that he had contested for the office of the president of the Federal Republic of Nigeria three times.
The APC chieftain said the nation was going through the most difficult moment sequel to the prevailing insecurity in the land.
He, however, expressed optimism to win the forthcoming election and put smiles on the faces of Nigerians home and in the diaspora.
"I have contested for the office of the president of the Federal Republic of Nigeria three times. The first time l ran when l was very young; 20 years ago, and l ran on the platform of ANPP. Later l ran on the platform of the PDP where l came second and the last one APC in 2014.
"So, l have been in the business of running for this office. This time, it will be the fourth attempt. I am hoping to be the President of the Federal Republic of Nigeria. Every time l started, l got stopped at the primary level, but this time around when l do run, l must win the race," he said.
Meanwhile, the 2019 governorship candidate of the Action Alliance in Imo State, Uche Nwosu, has asked Governor Hope Uzodinma to warn his aides from attacking his predecessor, Senator Rochas Okorocha.
Speaking with newsmen in Abuja on Wednesday, Nwosu urged the governor to reign in his aides so as not to let the feud between him and Okorocha escalate.
He described the faceoff between the duo as uncalled for and urged the APC leadership to broker peace between the two leaders in the interest of the party.
Nwosu, who is Okorocha's son-in-law, advised the governor to tread the path of peace, dialogue, and reconciliation and ensure that the state is not plunged into crisis.
Speaking on the quest for an Igbo presidency, Nwosu advised Igbo leaders to present a generally acceptable candidate if they are to get the presidential position in 2023.
He opined that only a candidate accepted and supported by all other zones could guarantee victory for the Southeast in the 2023 presidential race, rather than one that would be seen as an Igbo candidate.
Nwosu expressed optimism that no matter the current differences among the Southeast political leaders, they would come together at the right time to pursue and actualise the Igbo agenda.