Tanker Drivers Block Lagos-Benin Highway Over Killing Of Members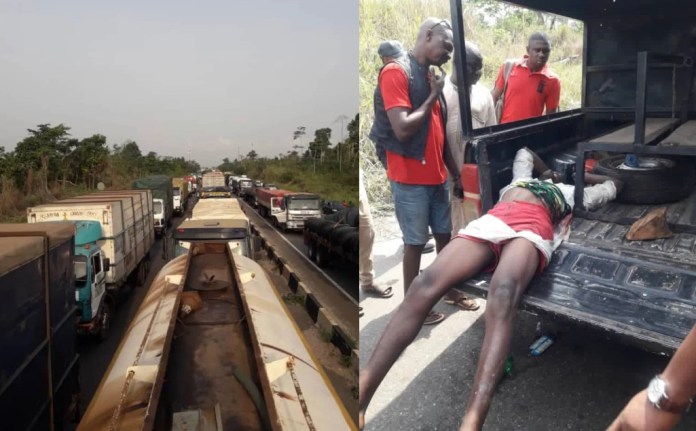 Tankers and other articulated heavy vehicles' drivers have protested the killing of their members by gunmen on Tuesday night.
Naija News gathered that the drivers blocked the Benin-Ore highway, at Ofosu, after the gunmen attacked the drivers on the expressway and made away with an undisclosed amount of money stolen.
The angry drivers who blocked the ever-busy highway at the military checkpoint, refused all plea made to them by other motorists, to vacate the road.
It was gathered that the angry drivers are insisting that Governor Godwin Obaseki of Edo State must come to address them before they will open up the road for use.
According to reports, soldiers at the military checkpoint have abandoned their posts, due to the chaotic atmosphere.
Meanwhile,
A gang of armed robbers caused pandemonium on the popular Benin-Ore expressway in the early hours of Wednesday when they attacked some of the travelling luxurious buses on the road.
The robbers were said to have first snatched a Sienna car on the ever-busy road before using it to carry out their operation, leading to huge traffic congestion on the expressway.
Naija News gathered the robbers used the Sienna car to block off some luxury buses which had departed Jibowu in Lagos State on Tuesday night and were heading for the eastern part of the country. The attack on the luxurious buses took place between two military checkpoints in Ondo State.
Further reports on the incident have it that two of the buses attacked belong to the Young Shall Grow while another is operated by Ifeanyichukwu Motors.
An eyewitness, who spoke with Daily Trust, said the Sienna car was conveying three passengers but the driver was pushed out of the vehicle before the robbers used it to carry out the operation.
The eyewitness added that one of the bus drivers who refused to open the passenger cabin door for the robbers to gain access to the passenger side of the bus was shot by the criminals and he died.