Boko Haram Reportedly Kills 30 Nigerian Soldiers In Borno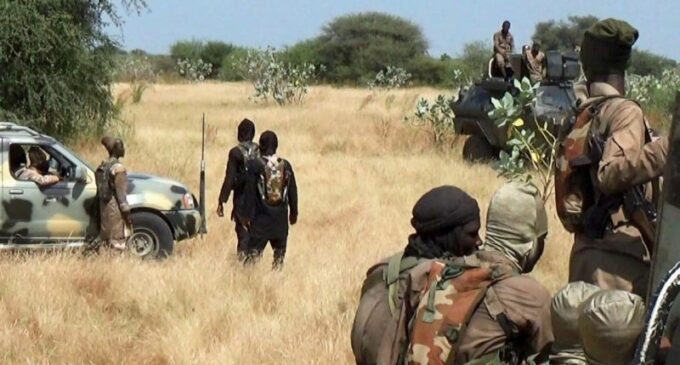 The Islamic State West Africa Province (ISWAP) terrorists have allegedly killed 30 Nigerian soldiers in Borno state, North East Nigeria.
In a statement released on Tuesday, ISWAP said the soldiers were killed during an attack on a military convoy in Wulgo.
The statement added that two insurgents who rammed two explosive-laden vehicles into the military convoy are Abu Bakr al-Siddiq and Bana Jundulla.
According to the terrorist group, four military vehicles were destroyed while some soldiers were severely wounded.
Meanwhile, a Pan-Yoruba group, Apapo Oodua Koya, has warned the Governors of Ogun, Oyo, and Ondo States that armed terrorist groups are plotting to kidnap school children in their states.
In a letter addressed to the three Southwest Governors, the group said it has received information that the armed terrorists in Ogun, Oyo and Ondo forests are targeting primary and secondary schools in the three states where they plan to abduct pupils.
According to the group, the terrorists are mapping out their targets in Ondo, Oyo and Ogun States where they are gradually building armed fortresses.
A copy of the release made available to Daily Independent in Ibadan stressed that: "We got the information through credible intelligence. We have the capacity to tap some of the communication of the insurgents usually rendered in Fulfulde. They are planning to kidnap school children in large numbers in any or all of the states mentioned above.
"They are currently located at Yewa in Ogun State, they are in Oke-Ogun in Oyo and Idanre-Ondo town axis in Ondo State" Apapo O'odua Koya, (AOKOYA) said in the letter sent to the state governors.
"It is our responsibility to inform you of information at our disposal. We hope you begin to trust our intelligence beginning from two years ago when we warned the Southwest Governors about armed Fulani cells spread across the South West forests" The governors are Dapo Abiodun of Ogun State, Arakunrin Rotimi Akeredolu of Ondo State and Seyi Makinde of Oyo State.
"If you allow this kidnapping to take place, you will be helpless because the security network you have around you are not for you but designed and controlled by enemies of Yoruba Nation.
"The intelligence information you receive are largely designed to deceive you because you don't own the structures.
"You are as vulnerable as a lonely bird on house top. Your future lay in alliance with you own people at this difficult moment in Yoruba history."
Source: Naija News