Rivers APC Crisis: Magnus Abe Speaks On Rift With Amaechi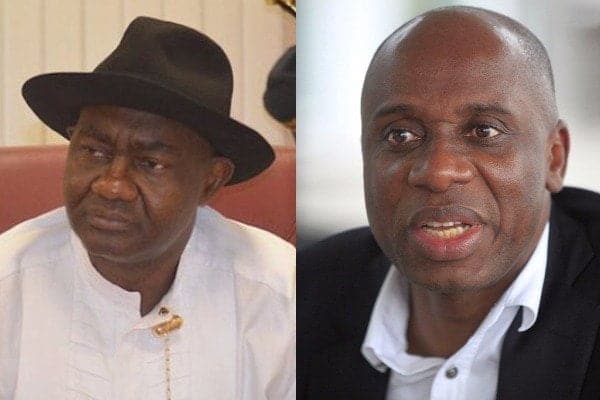 A former Rivers lawmaker, Senator Magnus Abe has broken his silence on the dispute between him and the Minister of Transportation, Rotimi Amaechi is not personal.
Recall that the Supreme Court had sacked Igo Aguma, a loyalist of Abe, as the caretaker committee chairman of Rivers APC and replaced him with Isaac Ogbobula, an Amaechi loyalist.
In an interview on Politics Today, a Channels Television programme on Monday, Abe said the decision of the court should afford the APC an opportunity to put its house in order.
The APC chieftain noted that Aguma's decision to dump the party is his personal choice.
He said: "Chief Igo Aguma as you would recall became chairman by virtue of a court judgement when he tried to intervene in a crisis. He was actually a member of the Minister's faction.
"He was not part of us originally so his leaving is a personal decision. Like everybody knows in this country, every adult is free to associate with whomever he wants to associate with. He took the decision of the court to mean that the party will not respond to the issues.
"But we took the decision of the court to see it as a fresh opportunity for the All Progressives Congress (APC) to put its house in order."
Speaking further, Abe said he does not have to be friends with Amaechi, but it's in the interest of the party for them to work together.
He said: "It is not a personal dispute between me and the former governor and minister of transport. What I'm saying is that as members of the party, we have our rights and entitlements and if those rights and entitlement are respected in the scheme of things, the party can move forward.
"There is nowhere in the world where every politician in a political party must be a friend to every other politician before the party can run its business."
Abe said the crisis in the Rivers APC appears "intractable" because politicians in the party refused to decamp when they did not agree with the decisions in the party.
"Part of what has made the crisis in Rivers state intractable is that we have simply refused to do what politicians do. Anytime you are in a party and you disagree with what is going on in the party, you simply pack your bags and move on to the next party," he said.
Naija News reports that both APC leaders had been entangled in a leadership tussle over the control of the Rivers APC leadership.
The tussle between the Amaechi and Abe-led factions led to the disqualification of the party from the 2019 governorship election in the state.