Repentant Boko Haram Pick Up Arms Again - Zulum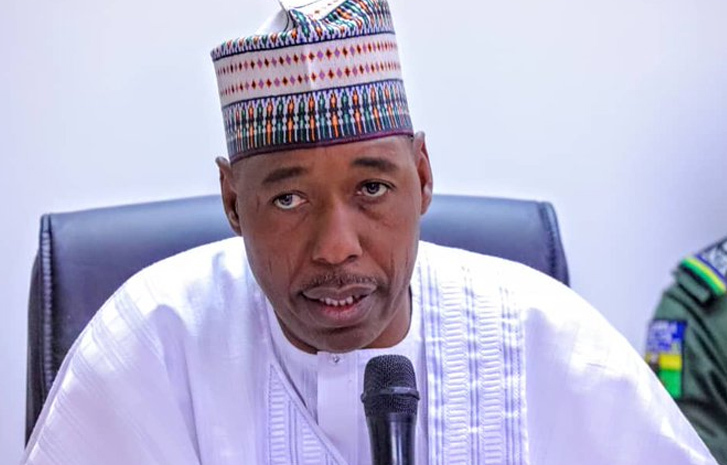 Zamfara State Governor, Babagana Zulum, on Wednesday said repentant Boko Haram members have reportedly re-joined the terrorist group and picked up arms again.
The Chairman of the North East Governors Forum disclosed this while speaking Bauchi on Wednesday during the meeting of the six governors.
Zulum lamented that the insurgents have changed tactics in their recent attacks on communities.
He called on President Muhammadu Buhari to stop the deradicalisation exercise and prosecute all terrorists in order to end the over 11-year insurgency.
"It has been confirmed that the concept of deradicalisation or Safe Corridor is not working as expected. Quite often those who have passed through the Safe Corridor initiative or have been deradicalised, usually go back and re-join the terror group, after carefully studying the various security arrangements in their host communities, during the reintegration process," he said.
Zulum also said most communities were not amenable to accepting the so-called deradicalised terrorists.
"The host communities where the reintegration process is going on usually resent the presence of Boko Haram terrorists, even if they have been deradicalised, because of the despicable and atrocious activities they have committed in the past."
"So the idea of deradicalisation, as currently being implemented, needs to be reviewed because the main goals and the underlying objectives behind the initiative are not being achieved."
"The best option is to immediately prosecute the terrorists, in accordance with the Terrorism Act. However, those people who, ab initio, were forcefully recruited but have been rescued or have escaped from the group, should be the ones to be subjected to the deradicalisation process."
"On the prosecution of terrorists, we must make effort to avoid the current encumbrances and intricacies associated with the process, which usually takes considerable time, by urging the appropriate federal authorities to devolve the powers of the Minister of Justice and Attorney-General of the Federation to state attorneys-general in order to facilitate the prosecution process," he said.
While applauding the appointment of new service chiefs in his welcoming address during the meeting which is their fourth, Zulum said: "As it is now, especially in Borno State, violence, being perpetrated by the insurgents, seems to be on the increase, both in scope and viciousness; and it has become a matter of tactical necessity for the new service chiefs to devise new offensive strategies to counter the current attacks and forestall any future attacks."
"Undoubtedly, the commitment of our military to the war against the insurgency is unquestionable and their determination to succeed is undeniable, as they have considered and acted upon a full range of options to deal with the insurgency."
"However, with the current escalation of deadly attacks by the terrorists, the various courses of action being pursued seem to have some limitations in terms of the expected impact; hence the need for a new set of pragmatic and result-oriented initiatives to completely subdue the terrorists and ultimately end the insurgency."
Source: Naija News