How Orji Uzor Kalu Disgraced Me In Public - Senator Abaribe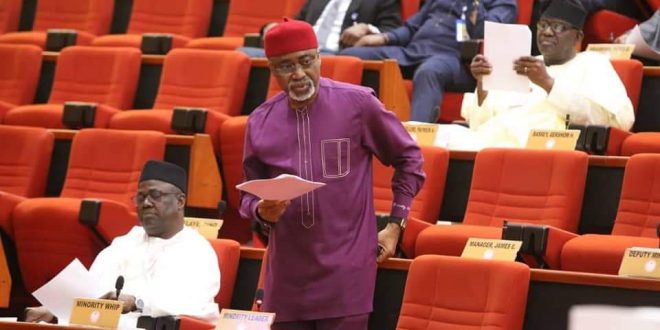 Senate Minority leader and former Deputy Governor of Abia State, Senator Enyinnaya Abaribe has revealed more details of his fall out with former Abia Governor, Orji Uzor Kalu.
Naija News reports that Senator Abaribe disclosed this in his book entitled, "Made in Aba", which will be launched in Abuja on March 1, 2021.
According to the Senate leader, his trouble with Orji Uzor Kalu started when he failed to join the league of "Egusi" peelers that regularly visited his mother's abode "for whatever reason".
He revealed that there were three attempts to impeach him because he refused to bow to the Governor's mother.
The lawmaker said the then President Olusegun Obasanjo and Senate President, Dr. Chuba Okadigbo, tried to intervene separately in his rift with Uzor Kali but nothing came out of it.
Senator Abaribe further explained on pages 153 and 154 of his memoir that during his crisis with Kalu, the duo intervention failed to yield the expected result.
According to him, he was dehumanized by Kalu on one occasion which gained him the friendship of an astute businessman and philanthropist, Chief Emeka Offor.
"The Senate President, Dr. Chuba Okadigbo, also intervened. He called me out to apologise to Orji Uzor Kalu in public, digressing from the project of road commissioning he had come for," Senator Abaribe said.
"I had for the sake of peace, humbly stepped forward. The governor did not reciprocate the gesture. But everyone witnessed the coldness he exhibited towards me on that occasion, and was able to judge whether the trouble between us was as a result of Abaribe's convoluted pride, or whether it was a reflection of something more sinister that 'hubris syndrome'!
"My dehumanisation by Kalu on that occasion gained me the friendship of Chief Emeka Offor, who was part of the crowd at the said commissioning. Chief Offor had approached me quietly with a complimentary card, expressing his astonishment at the childishness of a governor, who would openly shun reconciliatory gesture."
Abaribe added that while Kalu's eight-year tenure as a state governor lasted, two other deputy governors after him were impeached and removed from office.
Source: Naija News