Buhari Makes Fresh Appointment, Seeks Senate Confirmation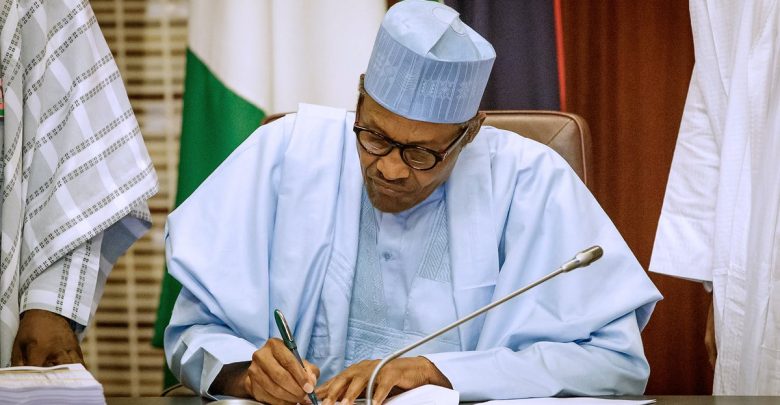 President Muhammadu Buhari has appointed Dr Halilu Shaba Ahmad as the new Director-General of the National Space Research and Development Agency (NSRDA).
The president has also forwarded his name to the National Assembly for confirmation.
This development was made public when the Senate President, Ahmad Lawan during plenary on Tuesday, read the letter from Buhari in which he urged the lawmakers to confirm Ahmad as the substantive NSRDA boss and give the matter urgent attention.
Naija News understands that Ahmad had been in an acting capacity in the same position since the expiration of the two-term tenure of Professor Seidu Mohammed in June 2020.
Prior to his appointment as the acting Director-General of NASRDA, Ahmad who joined the agency in 2009 had served as the Director of Strategic Space Applications, in which capacity he led the department's policy initiations and execution within the national space programmes framework.
He also previously served as a Deputy Director at the National Emergency Management Agency between 2006 and 2009, before joining NASRDA.
Meanwhile, former Minister of Aviation, Femi Fani-Kayode has berated prominent Islamic scholar, Shiek Ahmad Abubakar Gumi over his statement that the kidnapping of schoolchildren by bandits is a lesser evil.
Naija News had reported that Gumi described the kidnapping of schoolchildren by bandits as a lesser evil compared to the invasion of communities and the killing of residents.
The cleric also noted that his meetings with the bandits have started yielding positive results, saying bandits are now careful about human lives.
He had said: "Kidnapping children from school is a lesser evil because, in the end, you can negotiate and now bandits are very careful about human lives.
"Before, the mission of bandits was to go into a town, ransack it and kill people. By this, I can say our preaching is working and hopefully, we are coming to an end of banditry in Zamfara and other states.
"Bandits are more careful about lives now and just want to do sensational attacks which would bring attention to themselves."
Reacting to the cleric's comment in a tweet via his Twitter handle on Monday, Fani-Kayode described the comment made by Gumi as madness.
He wrote: "Kidnapping children is a lesser evil because in the end you can negotiate & now bandits are careful about human life. Before the mission of bandits was to go into a town, ransack it & kill people. By this I can say our preaching is working"- Sheik Ahmad Gumi. THIS IS MADNESS!"