'Blocking Foodstuff From North To South An Act Of War' – Nnamdi Kanu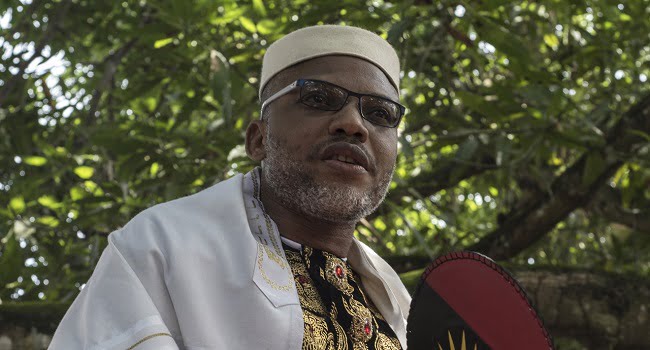 The leader of the Indigenous People of Biafra, Nnamdi Kanu, on Monday, condemned the blockage of foodstuff from the North to the Southern part of Nigeria.
The IPOB leader in his reaction to the development described it as an act of war. He wondered why President Muhammadu Buhari would allow such.
According to Kanu: "Nigerians know that the Fulani does not farm. Yet, it's the Fulani that is blocking the movement of farm products from North to South."
"Such blockade should be considered an act of war, yet the Fulani @NGRPresident tolerates it. If the South blocks oil and gas, they will levy a massacre."
Meanwhile, the Department of State Service (DSS)  has invited officials of Cattle and Foodstuff dealers under the aegis of the Amalgamated Union of Foodstuff and Cattle Dealers of Nigeria (AUFCDN) for blocking the movement of food items from the North to the South.
Naija News reports that the union had embarked on a nationwide strike over the weekend, thereby blocking foodstuff and cattle from entering the southern part of the country.
The union said it would be sustained till the federal government attends to their demands, which border on payment of N475 billion compensation for lives of members and property lost during the #EndSARS protest and Shasa market crisis.