You Are Alone – Northern Elders Disown Sheikh Gumi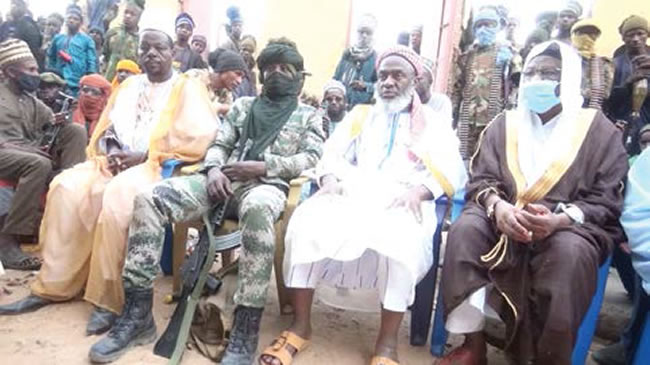 Northern elders have rejected recent comments credited to Sheikh Abubakar Ahmad Gumi accusing the military of triggering the raging banditry in parts of the North.
Naija News reports that Gumi who have been meeting with bandits in different forests to preach peace had accused non-Muslim soldiers of attacking innocent people and their villages to cause chaos in the North.
Reacting to Gumi's allegation in a statement by its National Coordinator, Zana Goni, the elders said cleric's allegations were not a representation of the position of the region.
The group called North East Elders for Peace and Development vowed to resist attempts by any individual or group to profile the military, which they maintained, remained the most visible symbol of national unity and cohesion.
They wondered why an Islamic cleric and scholar, who had taken the initiative to discuss with bandits, will end up taking sides, as his statements suggest.
The elders expressed warned that Gumi's action may expose the lives and safety of non-Muslim soldiers to serious danger, both in the military and their operational theatres in the North.
The statement reads in full: "We rise in one voice to dissociate ourselves from the dangerous and divisive allegations levelled against our patriotic soldiers by Sheikh Gumi, in one of his missions to meet with bandits in a forest around Niger State."
"Ordinarily, we would have commended the Sheikh for daring to do what authorities failed, but for the profiling comments attributed to him, which we consider unhelpful to national development and peace."
"We insist that our military is one of the finest in the world, with zero-tolerance for partisanship, ethnic consideration and other unprofessional dispositions.
"We warn that comments such as this have the potential of pitching the exposed soldiers against general areas in the North, where they have continued to put down their lives to protect the territorial integrity of the nation from those that seek to violate it.
"Our concern is further hinged on the possibility of the world concluding that the North may be offering tacit endorsement to banditry and associated crimes against society.
"To douse this tension, therefore, we call on relevant authorities, including prominent individuals and groups from the North, to condemn Gumi's position in a manner that will absolve the region of conspiracy and vicarious liability, in the long run
"In whatever position we find ourselves, we must, at all material times, endeavour to put the collective interest of Nigeria over and above all other considerations, bearing in mind the fact that when the country collapses, it will do so on all of us, regardless of religion, ethnicity, or belief."