Insecurity: Govt Must Find An Alternative To Negotiating With Bandits – Abdulsalami Abubakar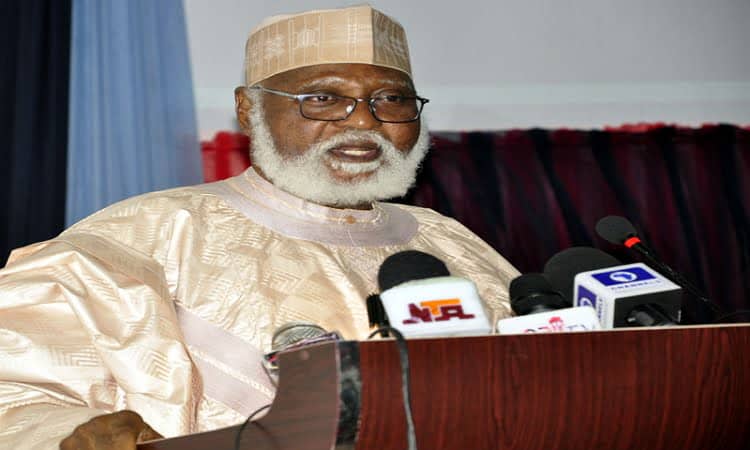 Nigeria's former military head of state, Abdulsalami Abubakar has urged the government to find an alternative to negotiating with terrorists and bandits.
The retired general who spoke on Tuesday after meeting with the Nigerian Governors' Forum in Minna submitted that the best option remains to prevent the crimes from happening.
Though he admitted that negotiation can sometimes be employed in securing peace, the former head of state noted that the best way to clamp down on criminal activities and their perpetrators is to prevent crime from happening.
Speaking with reference to the Kagara school abduction in Niger State, Abdulsalami noted in any attempt to rescue the abducted persons, military invasion might not be the best option because of the fear of losing innocent lives in the process.
"Even if anyone knows where the students are, it will be foolhardy to storm the place in a bid to fight and bring them back," he said.
While lamenting that the Nigeria Police Force is understaffed, Abubakar also aobserved that the entire security architecture in Nigeria is overstreched and needs to be aumented by recruiting additional manpower.
This, he said will prevent any future attempt by criminals to overun any area in the country.
The former military president finished by saying Nigerians need to be their brother's keepers and show true love.
"Let us go back to when we were our brothers' keeper," Abdulsalami pleaded.
Meanwhile, the Governor of Borno State, Babagana Zulum, on Wednesday visited victims of Boko Haram attacks in two hospitals.
Naija News had earlier reported that the terrorist group fired shots from Rocket Propelled Grenades at residents in Maiduguri on Tuesday.
The Governor in a statement released on Wednesday said 10 residents were killed and 47 others injured.
The shots, on Tuesday night, came from Kaleri, an outskirt of Maiduguri, but grenades travelled to hit Gwange and Adam kolo communities.