Bauchi Governor 'Repents', Begs Herdsmen Not To Carry AK-47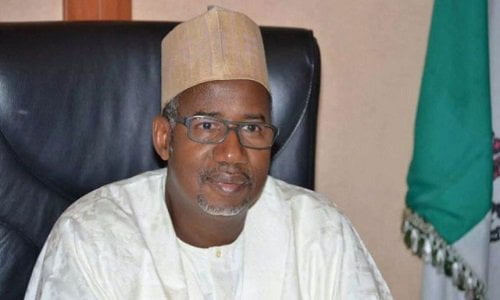 Bauchi State Governor, Bala Mohammed has appealed to Fulani herdsmen not to carry or use  AK-47 guns.
The Governor while speaking on Wednesday at the launch of the 2020/2021 annual livestock vaccination campaign held at the Galambi Cattle Ranch, Bauchi begged the herdsmen to remain peaceful even if they face any provocation.
The Governor who praised the simplicity of the Fulani herders, appealed to them to ignore his figurative allusion to the use of AK-47 guns and always show their humane and peaceful character.
Mohammed promised to continue to defend them against any form of criminal profiling just as he has always done.
In his words: "What I will do, I will not say it here, but I will do everything possible to make sure I protect you and lend support to you because I know you mean well.
"Through time and history, you have been seen to be cajoled, and lampooned but you remained humane, you remained simple, you don't show so much aggression and of course, that humility is always what we recognized and this is what a character that should always try to show.
"Please, don't carry the AK-47 that I made a figurative allusion to. Try to make sure that you remain peaceful."
The Governor further praised Miyetti Allah and other Fulani organizations for their commitment to promoting peace in communities where they and their people operate.
It will be recalled that Governor Mohammed had approved the use of guns by Fulani herdsmen, saying they only use it to protect themselves against cattle rustlers who attack, kill and take away their possessions.
However, after many backlashes, the Governor later clarified that he only used AK-47 as a figurative language on the need for the herders to protect themselves.
Recently, Governor Samuel Ortom of Benue State directed Fulani herdsmen to carry their AK-47 rifles and relocate to Bauchi if they won't obey laws in his state.
Speaking in a press conference on Monday in Makurdi, the Benue governor urged herdsmen to respect the laws on the illegality of bearing unlicensed arms.
According to the Benue governor, it is illegal and unconstitutional for any individual, no matter the tribe to carry arms without approval from security agencies.
Meanwhile, the Governor of Ondo State, Rotimi Akeredolu, has revealed the solution to the incessant insecurity facing the country.
Speaking during his swearing-in for a second term in office in Akure on Wednesday, Akeredolu said the only way to solve the security challenges is through State Police.
The Chairman of the South-West Governors' Forum noted that every state must be allowed to secure its space and protect it from external forces.
Akeredolu said the call for state police led the South-West governors to form a regional security network codenamed Amotekun.
He noted that the establishment of Amotekun has been justified with successes recorded all over the South West region.