FRSC To Ban Rickety Vehicles From Nigerian Roads, Arrest Drivers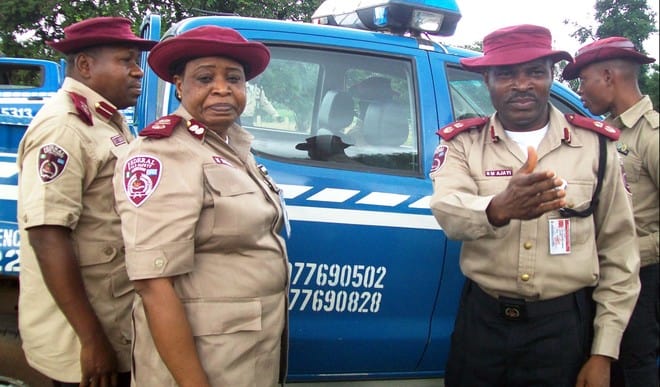 The Federal Road Safety Corps (FRSC) has announced plans to impound rickety vehicles plying Nigerian roads and arrest the drivers as well.
The move is based on a directive from the FRSC Corps Marshal, Dr. Boboye Oyeyemi to all Commanding Officers across all formations of the Corps nationwide.
The statement made available to newsmen on Tuesday evening by the Corps Public Education Officer Bisi Kazeem said the move is part of efforts to reduce road crashes and accidents in the country.
He noted that apart from impounding such vehicles, the drivers/owners of such vehicles will also face prosecution and punishment may include payment of fines.
According to Kazeem in the statement in Abuja, "the riot act to operators of rickety vehicles plying the nation's highways, indicates that the Zonal Commanding Officers and Sector Commanders have been given an express directive to commence a nationwide arrest, impoundment, and prosecution of owners or operators of such vehicles."
He added that "the operation which will be conducted nationwide, forms part of the Corps' commitment towards enhancing the tempo of its operational activities and create a safer motoring environment in the country, premised on the realisation of its 2021 strategic goals of reducing road traffic crashes by 15% and fatalities by 20%."
The FRSC lamented that the common sight of poorly maintained vehicles on the nation highways often result in obstructions of traffic flow when the vehicles eventually break down.
The FRSC Corps Marshal, therefore, enjoined motorists to ensure regular maintenance of their vehicles in view of inherent traffic hazards associated with abandoned broken down vehicles especially at night.
He highlighted the health, safety, and economic benefits of regular vehicle maintenance, noting that if drivers and vehicle owners will adhere to the constant maintenance of their vehicles, the safety of lives and properties will be enhanced and the statutory role of the Corps summarised in making the over 204,000 km road network in Nigeria safe for all users.
Explaining the seriousness of the riot act, Kazeem emphatically stated that severe punishment awaits anyone apprehended in the act, including impoundment of the vehicle, payment of fines, and compulsory road safety education.
The statement further urged members of the public to assist the Corps by reporting any rickety vehicle sighted on the road to the FRSC.
Meanwhile, the Miyetti Allah Cattle Breeders Association of Nigeria (MACBAN) has threatened to halt the selling and supplying of cattle to the southern part of the country.
Naija News reports that the threat was given by the Bauchi State branch of MACBAN on Tuesday.
The group warned that it would carry out its threats if the planned eviction of the Fulani herdsmen by some state governors comes to stay.