Residents Flee As Military Search Orlu For IPOB's ESN Members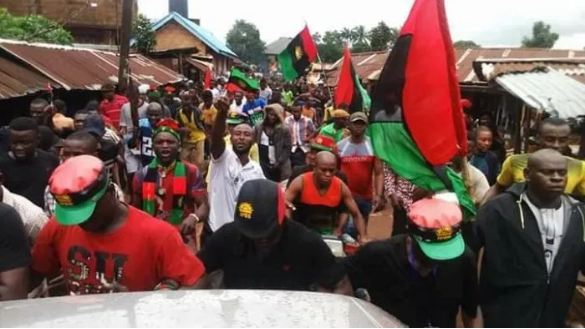 Residents of Orlu council area of Imo State have reportedly fled their homes as operatives of the Nigerian Military continue their search for camps belonging to the Eastern Security Network (ESN), operated by IPOB.
Recall that the military had last Thursday launched land and air operations against operatives of ESN believed to be in the forests in Orlu and its environs.
Justifying the deployment of the military to Orlu, Governor Hope Uzodinma had accused IPOB led by Nnamdi Kanu of planning to use ESN to cause trouble in the area.
He said the group, hiding under the pretext of chasing out Fulani herdsmen from the area plan to cause havoc in the community but he moved against them by bringing in the soldiers to maintain peace and secure the area.
He said further that the ESN had already killed several policemen and innocent residents of the area but he had to move to stop further bloodshed.
It was gathered that the presence of security operatives has crippled economic activities in the area.
A source told Daily Post that the military surveillance helicopter which hovered on a daily basis in Orlu and neighbouring LGAs, had caused more panic among the people.
In Orsuihitteukwa, a neighbouring community in Orsu LGA, the source admitted that the soldiers were not harmful but expressed concern on the heavy ammunition in their possession and the hovering of helicopters over their houses.
The source further said, "truly, the presence of the military has, to a large extent, calmed the situation. But I urge the leaders in the zone to address the security instability in our zone. This is not healthy for the progress and advancement of the biggest Senatorial Zone in Nigeria."