Kagara School Abduction: Details Of Meeting Between Sheikh Gumi And Niger Governor Emerges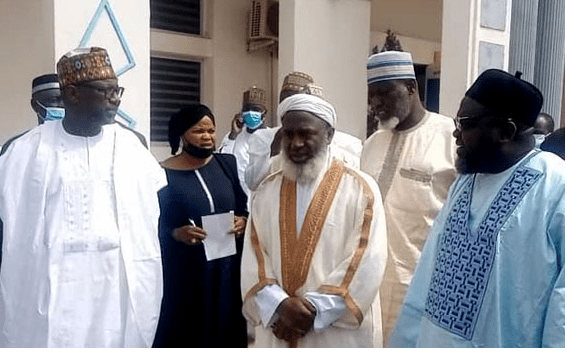 The Niger State Governor, Abubakar Sani Bello on Friday met with a prominent Islamic scholar, Sheikh Ahmad Gumi to discuss how to secure the release of the kidnapped Kagara students and staff.
Before meeting the Governor, Naija News had previously reported that Gumi had on Thursday visited the bandits in the Tagina forest of Niger State.
Speaking shortly after meeting Gumi, the Niger State Governor debunked trending rumours that the kidnapped persons have been released.
Though he noted that efforts are in top gear to secure their release, Bello said they are yet to regain their freedom.
In his words: "Regarding the event of the past few days where we have two serious cases of kidnappings –the NTSA (Niger State Transport Authority) bus that was kidnapped (with passengers). And the second event took place at the Secondary School in Kagara.
"As at this moment, we do not have any additional information to give apart from the one given earlier on, yesterday. But I want to assure you that we are doing everything we can, we are interfacing with the local communities, with federal authorities and our own state authorities to ensure that we recover the victims safely.
"Our utmost priority right now is to make sure we bring them back home safe and that is exactly what we are going to do. So, there hasn't been any information I can give you at this moment but once we have anything for you, we will let you know."
Specifically, he also denied rumours that the abducted persons have regained their freedom when he said: "Everything that is being said out there is rumour and in situations like this, we cannot work with rumour, it has to be confirmed. Yes, we've been receiving different rumours from different people within villages but we are still treating those as rumour until processed and confirmed."
On his part, Sheikh Gumi said he has presented the report of his finding s to the Governor after meeting the bandits in the forest.
He expressed optimism that the kidnapped persons would soon regain their freedom.
Addressing journalists after the meeting with the governor, Gumi said, "The outcome is very positive because if you have warring factions and each faction says that I have complaints and grievances which are very simple, I think there is hope."
It will be recalled that some students and staff of Government Science College, Kagara were kidnapped by armed bandits on Wednesday who stormed the school premises around 2 am.
Apart from the staff and students kidnapped, a student was also killed by the bandits during the attack.