Military's Presence In Orlu, Misplaced Priority – Nigerians Condemns Military Hours After Abduction Of Students In Niger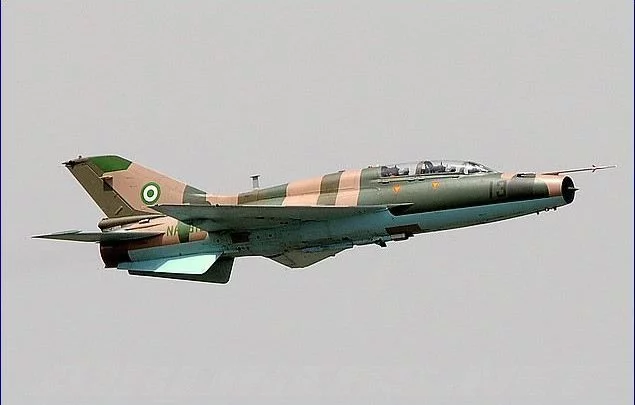 The alleged invasion in some communities in Orlu, Imo State by operatives of the Nigerian Air Force has continued to generate reactions from Nigerians.
It was gathered that the strike started on Thursday morning worsening the already built-up tension in the areas.
A video of the aerial bombardments on Thursday surfaced with fresh tension and anxiety building in the communities.
Confirming the military operation, the army spokesperson of the 34 artillery Brigade, Obinze, Owerri, Imo state, Babatunde Zubairu, said the locals were not being harassed.
He confirmed the deployment of helicopters and other military gadgets in the operations.
Nigerians, however, have condemned the deployment of the military operatives to Orlu days after the students and staffs of the Government Science College Kagara in Rafi Local Government Area of Niger State were abducted by bandits in the early hours of Wednesday.
Some Nigerians have described the action of the military as a misplaced priority and charged them to face terrorism and banditry in the North-East.
Nigerians have taken to the microblogging platform to react to the development on Twitter.
Yesterday there was an abduction in the north, the bandits even made a video asking their abductees to beg for their lives and that if the government didn't give dem 500 millions they will kill them all

The military were no where to be found, now dey are in Orlu

Doing what??

— Ogbede Olivia (@Ogbedeolivia1) February 18, 2021
Misplaced Priorities, No Wonder they are losing the war to insurgents, Bandits and terrorist. A child who decides to attack the unknown must know that weapons of the unknown are unknown, that is why they are the unknown. God bless our ESN. God bless Biafra

— Good name is better than gold (@sirpeeworld) February 18, 2021
The military should go to North East where the nation is experiencing Kidnaping by terrorist, they should go after the fulanis that are killing Nigerians in every part of the country and not ESN that did not constitute a security challenge.

— ChuzzyB (@ChuzzyB4) February 18, 2021
Nigeria security forces are just channelling their energy wrongly, they should better face Boko haram, kidnapping and banditry in the north, or go to Benin by- pass to flush Fulani herdsmen kidnapping commuters along that axis out. ESN are even helping to fight insecurity

— Ede Theophilus Okorie (@EdeTheophilus) February 18, 2021
Shameless and bias govt. Its pathetic dat dis govt wil leave d real terrorists nd bandits in d North to come to d east and b flexing muscles on ppl who are only protecting their ppl .

— Eze Jonathan (@EzeJona74284105) February 18, 2021