Makinde Can't Claim To Be My Leader, I'm His Father - Fayose Boasts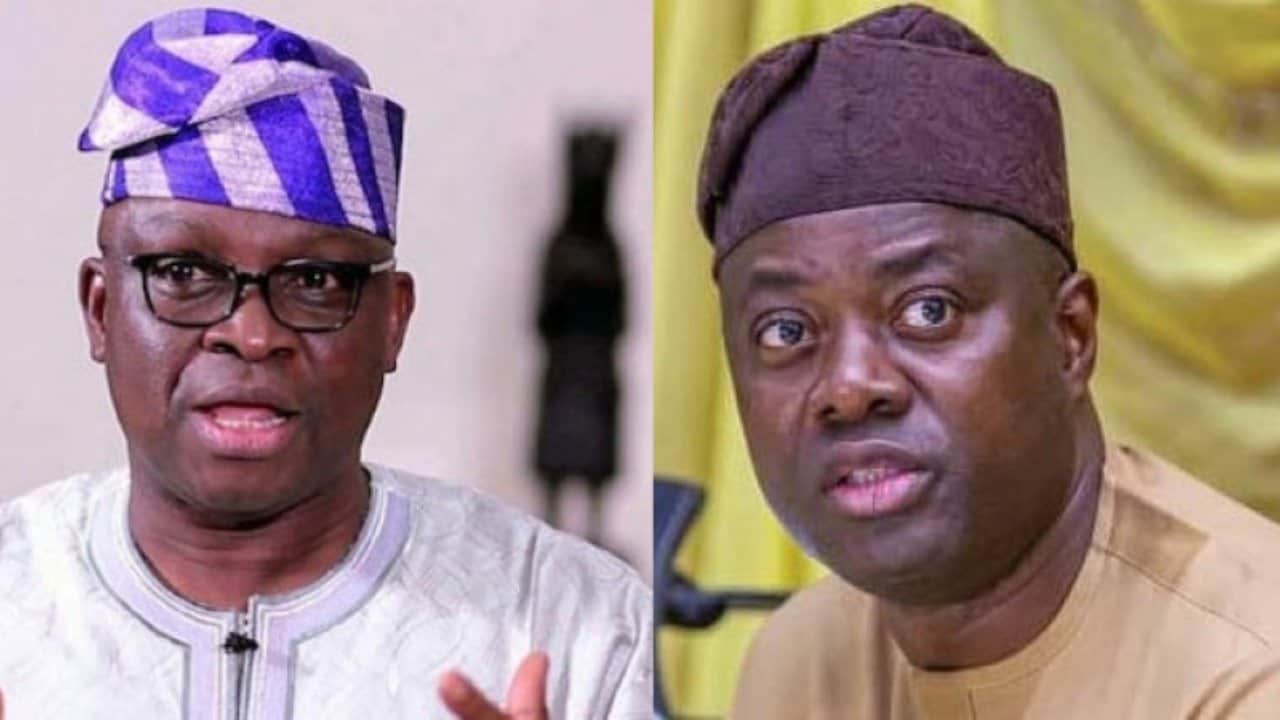 Former Ekiti State Governor, Ayodele Fayose has declared that it is wrong for Oyo State Governor, Seyi Makinde to be parading himself as his leader.
According to Fayose, he would always accord Makinde the honour bestowed upon him as a sitting governor but despite this, he remains a father figure to Makinde.
Fayose who spoke on Sunday during his appearance on Channels TV, Sunday Politics however noted that he is not in a leadership tussle with Makinde for the position of the leader in the Southwest Peoples Democratic Party (PDP).
In his words: "I am not in a tussle of leadership with Governor Makinde, but he can't come out and say he is my leader, he is not my leader, No he is not. The fact that my son is the governor and I had to get up when he comes to a function does not mean he is my leader.
"The gentleman is a governor and I must respect his office. Governor Makinde by all standard is the only governor in the Southwest, all South South leaders are PDP governors. Who is the leaders of the governors? Because he is the only one we have, I used to be like that and I never said to anyone, I am the leader of the west.
"If he wants to be addressed like that, it is okay, but the fact that I got up for my son, a governor at a function, does it mean he is my father? He is not my leader. Is governor Sanwo-Olu the leader of Asiwaju in Lagos? Is governor Ambode the leader of Tinubu in Lagos? Or governor Wike, is he the leader of Odili?
"Please, I have to choose my language, we have to choose it, I just told you will, Makinde probably be 31 or 32 years when I was governor in 2003. I am his brother, he is the leader in the Southwest by reason of his office, when we go out, we say your excellency but when we are at home we are his fathers," he stated.
Meanwhile, Governor Seyi Makinde of Oyo State and his Ondo State counterpart, Rotimi Makinde, were barred from entering the palace of Sarkin Shasha, Alhaji Haruna Maiyasin.
Naija News gathered some angry youths stopped the governors during their visit to Shasha market to assess the extent of damage incurred during the clash between Yoruba and Hausa traders.
The governors had earlier condemned the clash between the two ethnic groups which led to the death of a number of persons and the destruction of property worth millions of naira.
The governors had sued for calm, appealing to the Hausa community and their Yoruba hosts to live together in harmony.
Speaking at the market, Governor Makinde promised to give palliatives to those whose wares were affected during the crisis, adding that the two factions have to eschew violence and allow peace to reign.
However, as they made to visit Sarakin Shasha, the youth demanded that the governors should pay a condolence visit to the village head and not Sarkin Shasa's palace. The youths also booed the governors for Makinde's lateness to visit the troubled area.
Source: Naija News