#OccupyLekkiTollGate: Adeyanju Reveals Who Ordered Mr Macaroni, Protesters Arrest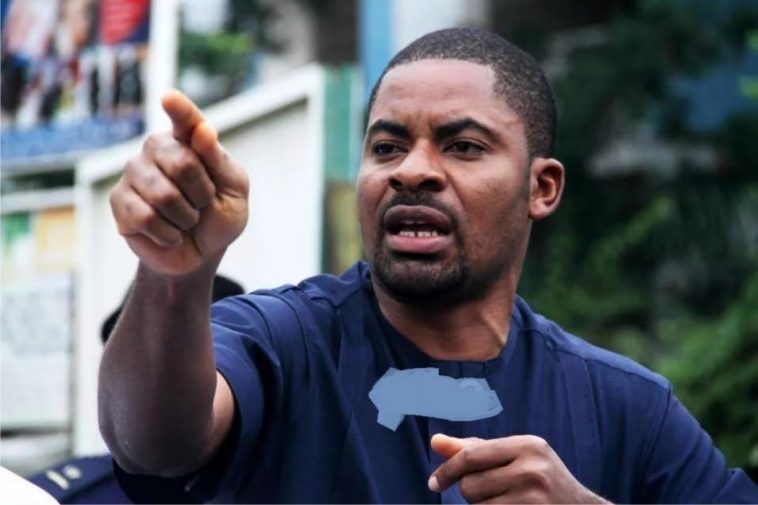 Popular activist Deji Adeyanjuhas accused President Muhammadu Buhari of ordering the arrest of End SARS protesters at Lekki toll gate in Lagos State.
Naija News reports that #OccupyLekkiTollGate protesters were on Saturday arrested by a combined team of security agents.
Adeyanju said the police arrested popular comedians, Mr. Macaroni and other protesters on Buhari government's orders.
In a post on his Twitter page, Adeyanju wrote: "The suffering and smiling police officers acting on the instructions of the Buhari regime have just collected @mrmacaroni's phones and his IG live stopped.
"This is not a democracy but a military regime. #OccupyLekkiTollGate
"#OccupyLekkiTollGate: 10 protesters, Juwon, Kehinde, Kiara, and others arrested at the Lekki TollGate a few minutes ago. They're currently being taken to an unknown destination in a Black Maria."
Recall that the panel had authorized LCC to takeover the Lekki tollgate after it concluded its investigation on the spot.
This comes weeks after the controversies surrounding the clash between #EndSARS protesters and security operatives at the Lekki tollgate on October 20, 2020.
The five out of the nine-man judicial panel had on Saturday voted to returned the control of the tollgate to the Lekki Concession Company, the operators.
Four members faulted the report of the forensic experts hired to comb the scene for evidence.
The four members who rejected the forensic report are the two representatives of the civil society – Mr Ebun-Olu Adegboruwa (SAN) and Ms. Patience Udoh; as well as the two youth representatives on the panel – Rinu Oduala and Temitope Majekodunmi.
But the chairman of the panel, retired Justice Doris Okuwobi, alongside Segun Awosanya (popularly known as Segalink), Oluwatoyin Odusanya (Director, Citizens Rights), DIG Taiwo Lakanu (retd.) (representing the police) and Lucas Koyejo (from the National Human Rights Commission) backed the reopening.
Angered by the decision, some youths on Saturday took to the street to #OccupyLekkiTollGate.