Boko Haram To End Soon As Military Rejig Operations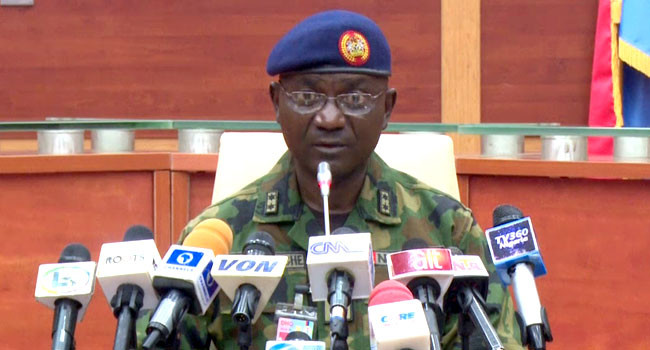 The Defence Headquarters has announced that it had begun the reorganisation of its military operations to tackle insecurity in Nigeria following the exit of former service chiefs.
Naija News reports that this was made known by the Coordinator, Defence Media Operations, Maj.-Gen. John Enenche.
General Enenche stated this in Abuja while giving updates on the operations of the Armed Forces across the country.
According to him, changes in the leadership of the armed forces would usher in new modus operandi for tackling security challenges in the country.
He stated that the Defence Headquarters had been doing that by conducting operational visits to the Northeast.
Enenche said: "The service chiefs led by the Chief of Defence Staff, Maj.-Gen. Lucky Irabor, commenced actions at all levels.
"These include carrying out strategic, administrative, operational and logistics adjustments, changes and reviews to improve the security situation in the country."
Meanwhile, Governor Bala Mohammed of Bauchi State has said Fulani herdsmen carry firearms to protect themselves against cattle rustlers who attack, kill and take away their possessions.
The Bauchi governor noted that the north has over the years accommodated westerners, stressing that Fulani herdsmen have the right to live anywhere as Nigerians.
He said "The west doesn't want to accommodate other tribes but we are accommodating your tribe in Bauchi. We have Yorubas who have stayed in Bauchi for over150 years, some of them have being made permanent secretaries in Gombe, Bauchi and Borno but because the Fulani man is practicing the tradition of transhumans, pastoralism, he has been exposed to cattle rustlers who carry a gun, kill him and take away his cows he has no option to carry AK 47 because the government and the society are not protecting him. It's the fault of the government.
"Nobody owns any forests in Nigeria, it's owned by Nigeria. Under section 23, 24 and 25 of the Constitution, every Nigerian is free to stay anywhere. Anybody can speak how but we are only exercising restraint.
"If cybercrime is being practised mostly by one tribe, you don't criminalise the whole tribe because of this. That's why you journalist needs to be sensitive and exercise restraint. Avoid writing reports that will threaten the unity of this country."