Contractors Storm NASS To Protest N8bn Unpaid Fees By FG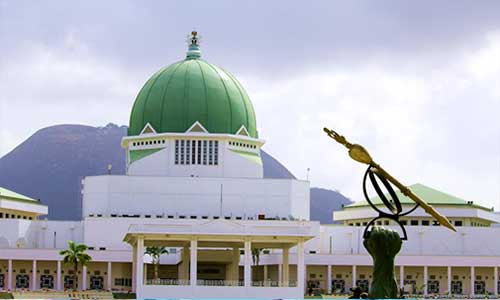 Some contractors on Wednesday, stormed the National Assembly complex in Abuja to demand the payment of project fees allegedly owed them by the federal government.
They claimed to have executed various projects amounting to N8bn for the Project Development Institute, Enugu but were yet to get payment from the government through the Ministry of Science and Technology.
According to the contractors who chanted various solidarity songs, the projects were constituency projects done since December 2020.
The leader of the group, Joy Uche who spoke with journalists, lamented that it had been difficult for them to take care of their families and personal needs due to the non-payment of their entitlements.
Another contractor, Favour Emenike revealed to journalists that they were in the National Assembly to plead with the lawmakers to prevail on the Minister and Ogonnaya Onu, to pay them their money.
Emenike added that some of their colleagues have already lost their lives in the struggle without getting payment.
Meanwhile, renowned Islamic scholar, Ahmad Gumi, said on Tuesday that he met with Fulani herders in Zamfara forests and not bandits as widely reported.
Gumi made this known in an interview with Daily Trust while reacting to critics of his meeting aimed at convincing the criminal herdsmen to drop their guns and repent.
The cleric said the herders took up arms because of injustice done to them which include killing them and their cattle, extortion and burning their homes by security operatives.
He said: "They were victims of violence so they took arms to protect themselves. Wherever they are as cattle herders, they face problems with farmers; we saw what happened in Oyo, how their homes and cattle were burnt. These people live in huts while those killing them and destroying their homes live a better life."
Source: Naija News