President Buhari 'Quietly' Appoints Nephew As NIA Director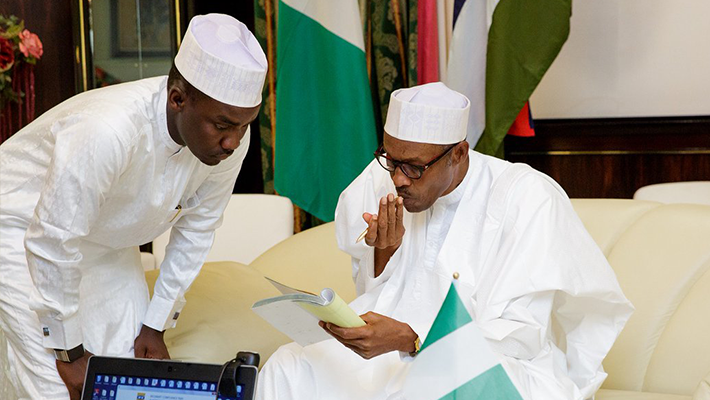 President Muhammadu Buhari has allegedly appointed Sabi 'Tunde' Yusuf, his nephew, as an assistant director at the National Intelligence Agency (NIA).
Yusuf, a domestic but influential aide to Buhari, was recently admitted as an assistant director at the nation's external intelligence outfit, to presidential officials told PeoplesGazette.
It was gathered that Yusuf name was inserted into the Intelligence Agency despite lacking the requisite field and administrative experience to handle the rigours of the top job.
The source, who sought anonymity to discuss matters of national security, said Mr Yusuf has not been regular on the job because of his primary duties at the State House.
"It is whenever he desires that he will be at work," one of our sources said. "The claim is now that he is on secondment at the Presidential Villa but his career work is now at the NIA."
"The reason he was granted an office that should take at least 16 years of career buildup is that the president wanted him to be in charge of NIA before he leaves office," another source said.
Presidency sources said Yusuf was sent to the NIA on the back of his "special skills" that Buhari said would "be useful" to the organisation.
It was however gathered that the appointment has not gone down well with some officials in the NIA, with officials saying it would affect the knowledge base of future intakes.
"The NIA is where you are recruited from the bottom, made to undergo important training and then grow through the ranks," the official said. "Bringing someone like this is not good for the system."
"How can you bring a novice to this office when he has no capacity to train others that will be recruited into service from now on?" NIA official said. "This is just a way of further destroying the system by this president."
Yusuf shot into national infamy in mid-2020 after reportedly shunning calls by First Lady Aisha Buhari to self-isolate upon his return from a trip to Lagos — at the time the epicentre of the raging coronavirus pandemic in Nigeria. His trip on presidential jet had flagrantly violated Buhari's ban on interstate travel at the time.
He was said to have reportedly influenced the arrest of Mrs. Buhari's security aides, following an altercation that had ensued as a result of his repeated non-compliance with COVID-19 safety protocols.
A presidency source told PeoplesGazette that Buhari has become increasingly desperate to shield not just himself but his closest associates from criminal charges.
Sources said the president recognised the importance of protecting his inner circles even beyond his stay in power..
"Unlike Goodluck Jonathan who did not protect his officials from being hounded when they left power in 2015, President Buhari is committed to ensuring that his people are in good shape either in or out of government to withstand being held accountable by the next administration," the presidency source said.
Download NAIJA NEWS app: