[BREAKING] COVID-19: FG Places Fresh Restriction On 100 Passengers (See Details)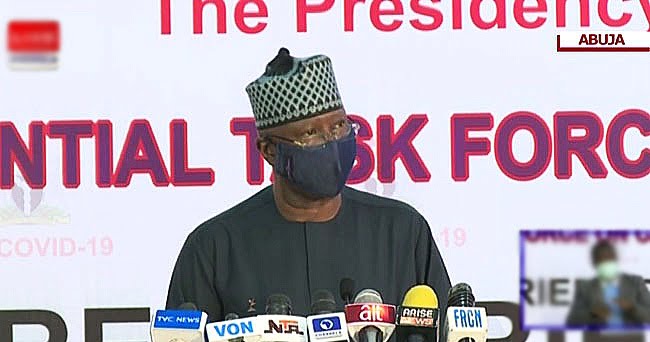 The Federal Government on Tuesday announced that it has placed a travel restriction on 100 passengers for flouting COVID-19 directives.
In a post on Twitter, the Presidential Task Force on COVID-19 also released the passport details of the defaulters,
According to the PTF, the passengers have been restricted from travelling for six months.
"Presidential Task Force sanctions 100 Passports in Second Batch of those who failed to comply with the mandatory Day 7 post-arrival COVID-19 Test. PENALTY: six-month travel restriction from February 5 to July 30, 2021," it tweeted.
In the list containing the passport number of the defaulters, it added, "The Federal Government is placing travel restrictions on the following passports due to non-compliance with the mandatory Day and post-arrival COVID-19 test."
The PTF said the defaulting passengers have been notified and will be prevented from travelling out of the country during the period.
Recall that the PTF had in January placed travel restrictions on 100 travellers who failed to undergo the compulsory COVID-19 test after returning into the country.

Meanwhile, the Nigeria Centre for Disease Control (NCDC) has reported 643 new cases of the novel coronavirus (COVID-19) in Nigeria.
Naija News reports that the new cases were reported in a post on the disease control agency's Twitter handle on Monday night, February 8, 2021.
The newly reported cases bring the total number of confirmed COVID-19 cases in Nigeria to 140,391 which includes 114,635 discharged cases and 1,673 deaths.
Below is the breakdown of the latest cases according to states with Oyo State having the highest number of cases with 88 closely followed by Lagos State with 86 cases.
Oyo-88 Lagos-86 Rivers-55 Edo-54 Akwa Ibom-53 Adamawa-52 Plateau-45 Kaduna-41 FCT-34 Kwara-27 Benue-20 Kano-19 Delta-18 Nasarawa-16 Niger-15 Bayelsa-11 Borno-5 Bauchi-2 Sokoto-2.