Trouble As Six Weeks Old Child Dies During Baptism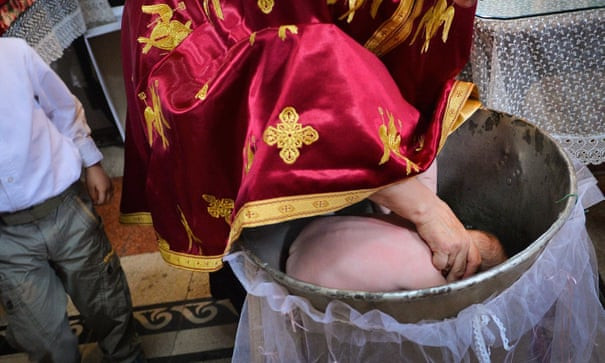 A six weeks old child has reportedly died during a baptismal programme by an orthodox Church in Romania.
Naija News understands that there was an uproar when the incident happened on Monday, February 1, resulting in a manslaughter investigation on the clergy who the child, unfortunately, gave up the ghost in his care.
It was gathered that the infant suffered a cardiac arrest during the Christian exercise on Monday and was rushed to hospital but seized breathe a few moments later. An autopsy carried out on the child revealed liquid in his lungs.
The alarming incident happened in the North-eastern city of Suceava and as its stand, an online poll calling for changes to the ritual had gathered more than 56,000 signatures as at Thursday evening, Naija News learnt.
A message with the petition reads: "The death of a newborn baby because of this practice is a huge tragedy,"
"This risk must be ruled out for the joy of baptism to triumph."
Reacting to the incident which is becoming a repeated event, the Church spokesman, Vasile Banescu suggested that priests pour a little water on the baby's forehead instead of usual immersion of children three times in holy water.
However, on his part, Archbishop Teodosie, leader of the Church's traditionalist wing insist the ritual would not change.
In another news, a 50-year-old HIV positive man in Benue State reportedly raped a 5-year-old girl, Naija News reports.