In 1984 I Told Pastor Adeboye I Will Be President But Not A 'Do-Or-Die Affair' – Tunde Bakare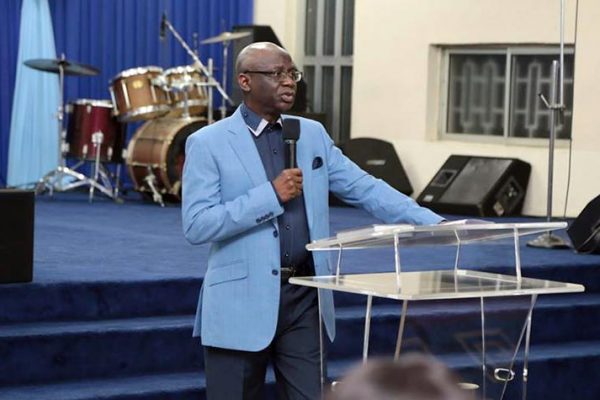 Serving Overseer of the Citadel Global Community Church in Lagos, Pastor Tunde Bakare, has stated that his presidential ambition was not a do or die affair.
Speaking in an Instagram Live interview with the Publisher of Ovation Magazine, Dele Momodu, Bakare did not rule out contesting for presidency in the 2023 election.
While insisting that his presidential ambition was not inordinate, the cleric said he still has a quota to contribute to the development of the nation.
Bakare said: "In an ideal situation, every Nigerian is entitled to his or her dream and we must find a way of liberating that office that any Nigerian who desires to be in the office or to be the president of Nigeria should be at liberty to do so.
"I express my own desire but it is not any inordinate ambition and it is not that I must kill and maim in order to get there. I have something to offer my country, God giving me the opportunity and the people saying so, I desire to still contribute my meaningful quota to the development of my nation. It is a dream I have had as a little boy and it has never left me but I am not pushing either am I forcing myself on people.
"Remember something about the presidency in Nigeria, those who pursue it too hard hardly get it, those who put everything into it hardly get it and those who are qualified like MKO, he won the election, they didn't let him get it. Chief Obafemi Awolowo has been described as the best president Nigeria never had.
"I will tell you it was the time Muhammadu Buhari stood publicly and said he will no longer offer myself for public service; it was after that that he got it. So, there is no inordinate ambition here that it must happen at all cost. If God gives me the opportunity, I will serve my nation but may the best candidate win in the next election and may God bring the best and brightest candidate emerge and steer the ship of our nation."
The Buhari factor
He also dismissed having an agreement with President Muhammadu Buhari to succeed him after his second term expires in 2023.
According to the popular clergyman, he has never spoken to President Buhari about succeeding him.
Tunde Bakare said: "As a servant of God the Most High, President Buhari and I have never discussed it not once. I say that publicly today and if anybody has anything to the contrary, he can bring it to the open. We have never said it. He had never said to me, I confide in you, you are the man I would, no, not once, I express my own desire.
"And if you care to know, this is not the first time I said it. I said it in Lisabi Grammar School in 1973. Ask my classmates, they will tell you I said one day, I will be the president of Nigeria.
"In 1984, I mentioned it to Pastor Adeboye, he is still alive. Before I proposed to my wife in 1982, I said it to her that one day I will be the president of Nigeria. It was something that I had seen as a little boy that I have something to offer my country and this country can be better than this and I will do my best to give it the best shot but it is not driven by inordinate ambition."
Recall that Bakare was the running mate to President Buhari in the 2011 presidential election but lost to former President Goodluck Jonathan and his deputy, Namadi Sambo.
Buhari later ran again and won in 2015 with Yemi Osinbajo under the banner of the All Progressives Congress.
Download NAIJA NEWS app: