Nnamdi Kanu Fires Buhari Over Eastern Security Network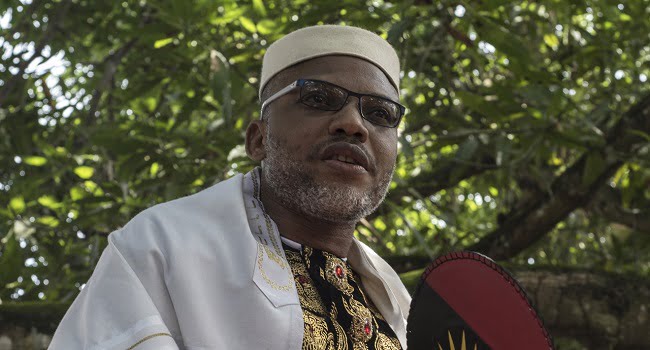 The leader of the Indigenous People of Biafra (IPOB), Nnamdi Kanu, has revealed why President Muhammadu Buhari has no right to condemn the Eastern Security Network (ESN).
Recall that members of the security outfit had attacked Fulani herdsmen and their cattle in Isiukwuato, Abia State.
The security operatives in a video shared by Kanu were seen burning houses and cows allegedly belonging to the Fulani herdsmen.
Kanu captioned the video shared on his Facebook page, "Video of men at work last night across all the towns and villages of the old Bende Division, especially Isiukwuato."
"ESN has commenced the combing of parts of Isiukwuato forests last night and engagement with the enemy is ongoing and will continue until they no longer present a threat to our communities along that axis."
In another statement on Monday, Kanu disclosed that the President and state governors have lost the moral right to criticize the security outfit.
He said the only thing President does is to pardons terrorists and bandits and give them scholarships instead of prosecuting them.
He tweeted; "When your President does not prosecute TERRORISTS but pardons & gives them scholarships. When your Governors negotiate with & BANDITS & pay them."
"When your security agencies rehabilitate terrorists & induct them in your Army. They lose the moral right to traduce #ESN. We move!".