Nigeria Is Winning War On Insurgency – Presidency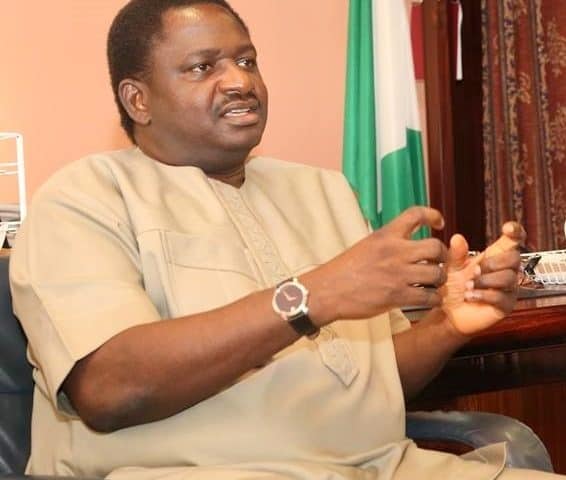 The Presidency has said the Nigerian Government is winning the war against insurgency, adding that the war against insurgency is under-reported.
Naija News reports that Nigerians took the social media at the weekend to react to the claim by the immediate past Chief of Army Staff, Lieutenant General Tukur Buratai, that the security situation across the country is largely stabilised under his watch.
Nigerians condemned Buratai for claiming that under his watch, the Nigerian Army has been better positioned with intelligence gathering techniques and equipment.
But in an interview on ARISE News on Monday, Presidential Spokesman, Femi Adesina, accused Nigerian media of under-reporting the war against insurgency.
He, however, commended the Nigerian military for flushing insurgents, bandits, and other criminal elements out of their hideouts in Borno and other parts of the North East.
Adesina revealed that an ambush was laid by the military against insurgents, but was reported as an attack on the military without mention of what the insurgents suffered.
"Two weeks ago, there was an attempt to seize military formation in Marte, Borno state. If you seek to know what happened in Marte, you will give kudos to our military," Adesina said.
"They allowed the insurgents to come in and the insurgents just suddenly found themselves in an ambush and they decimated them completely, took out all their gun trucks, about six or seven gun trucks. Do you know that that thing did not gain traction in the media?
"Those that reported it said the insurgents attacked the military formation, they didn't say what the military did to them. That's a practical example of under-reporting what happens even in the anti-insurgency war.
"You find out that when the insurgents seem to have made gains it's played up, but when our military fights back and gains ground, people don't seem to hear about it. It is not reported even online they don't celebrate it."
Meanwhile, former Nigeria President, Olusegun Obasanjo, on Sunday called for state police.
Obasanjo while talking on restructuring, noted that there is the need for the devolution of powers, responsibilities, and resources to allow for healthy competition among states.
The ex-president stated this while speaking during a virtual interview hosted by a historian and columnist, Toyin Falola.
Obasanjo who had earlier rejected the calls for state police, however, said, supported a statement credited to the Governor of Taraba State, Darius Ishaku, that the country would know no peace until it instituted state police.
He said, "Why can't we now have state police? I have been to a country like Colombia, in the last five years, at least a dozen times. They did exactly what we did. They moved from local and state police to national police. But now, they have gone back to state police or provincial police. Why can't we do that? If we do that, there will be no need for Amotekun."
"I was watching the governor of Taraba not too long ago. He was saying Nigeria will have no peace and security until we have state police. I believe that the time has come when we should talk of state police and allow it to be. The governor of Taraba said the national police have been overwhelmed, and I believe he is right."
"There will still be the need for federal police to look after federal territories and what I call major entry points – international airports and international seaports. The Federal Government can have mobile police and station them in strategic places, and only deployed when the state governor requires for it."
He condemned the Federal Government for meddling in issues relating to secondary schools and agriculture, he said such responsibilities should be given to states.
Source: Naija News