Adult Movie Star Says She Makes $1.2m Monthly From Selling Bath Water And Used Condoms To Fans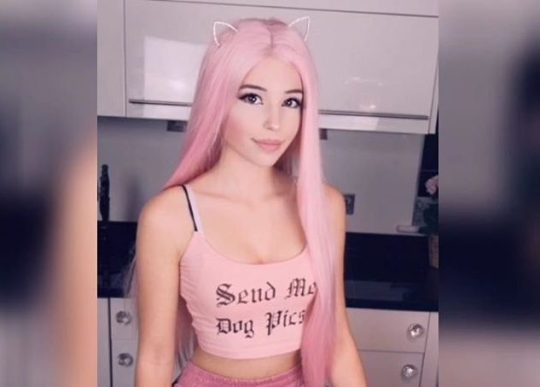 An adult movie star and social media influencer, Belle Delphine has claimed she makes up to $1.2m every month from selling her bath water and used condoms to fans.
The 21-year-old South African-born English internet celebrity who has thousands of followers on her social media accounts however warned newbies who may want to join her line of business because of the money that they may not be as successful as her.
She disclosed she makes that much money because her followers and fans love what she does and she already has several of them, arguing that a new person may find it difficult building the fan base.
Naija News understands she has millions of followers on her Instagram, Snap Chat and YouTube pages where she shares pictures and videos with them but she was permanently banned from Instagram in July 2019 for contravening some rules of the social media account.
Talking about her line of business, popularity, and acceptance, Belle said: "People can see me and see my numbers and think, 'Oh, she's doing really well so that means I can do really well'.
"For every one successful girl you see, there are thousands of other girls working really hard and not earning anything."
She added that she has plans of venturing into other lines of business if her current endeavours stop making enough money for her.
Meanwhile, Justice Nicholas Oweibo of the Federal High Court, Lagos, has admitted more evidence in the trial of music artiste, Azeez Fashola who is popularly known as Naira Marley.
Naija News reports that Naira Marley is on trial on an 11-count charge of conspiracy, possession of counterfeit cards, and fraud.
The new evidence admitted is a CD containing the phone analysis of the embattled singer.
The CD had been tendered in evidence at a previous proceeding by Anosike Augustine, a mobile forensic expert with the Economic and Financial Crimes Commission (EFCC).
Anosike who is the second prosecution witness in the EFCC had told the court that how he analyzed the contents of the iPhone 11 allegedly retrieved from Naira Marley during an investigation.
Counsel to Naira Marley, Olalekan Ojo, SAN had objected to the admissibility of the evidence.
In his ruling delivered this morning, Justice Oweibo overruled the objections of the counsel and admitted the C.D in evidence.