Imo Police Arrest Officers Who Assaulted Civilians In Orlu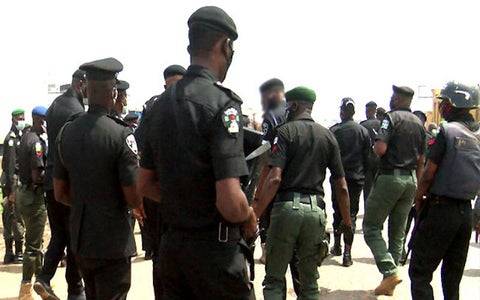 The Imo Police Command has said some officers of the command in the state had been arrested for allegedly assaulting five civilians in Orlu.
This news platform reports that policemen in Imo resorted to violence to enforce a dusk-to-dawn curfew declared by the state government in all the local councils in Orlu.
In a viral video on Wednesday, the police officers were seen beating residents riding motorbikes or walking on the streets of Orlu with sticks.
The policemen subjected some of the curfew violators to doing frog jump while the officer hit them with guns and rods.
But in a statement on Thursday by the spokesman for the command, SP Orlando Ikeokwu, on Thursday, the state Commissioner of Police, Nasiru Mohammed, said the officers were arrested on Wednesday.
Mohammed said the officers were seen in a viral video committing the act at Banana Junction in Orlu.
He said disciplinary action was being taken against the officers whose conduct was deemed unprofessional.
He advised the public to report any unprofessional conduct of officers of the command to the Assistant Commissioner of Police, XSquad, Public Complaint Bureau, or to the office of the commissioner of police.
Mohammed condemned the "inhuman treatment and assault on yet to be identified persons in the viral video."
According to him, the officers were seen forcing five persons to lie on the floor, flogging them in the process, which is unethical, unprofessional, and unacceptable.