Five Nollywood Stars Who Have Already Died In 2021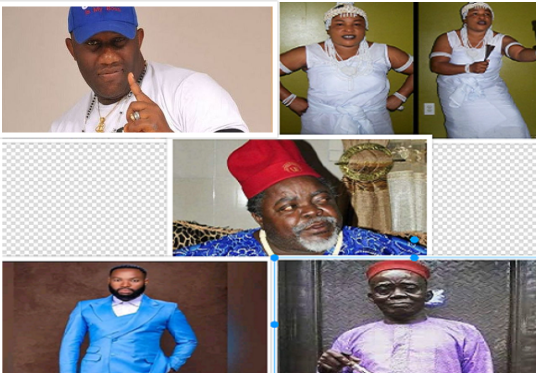 The year 2021 is just a few days old but the number of people who have bid the world goodbye is increasing on a daily basis.
Many are those who have been touched by the cold hands of death; some are more known than others probably due to the nature of their works or their popularity, Naija News reports.
Among those who crossed over into the new year 2021 but have bid the world a permanent goodbye are five Nollywood actors and actresses.
1. Ernest Asuzu
Veteran and popular Nollywood actor Ernest Asuzu is the latest Nollywood star to be confirmed dead in 2021.
According to the wife of the late actor, Jennifer Asuzu, her husband died on Tuesday evening (January 26) at the age of 36.
She said Asuzu fainted on Tuesday evening around 9 pm and died afterward.
2. Folake Aremu (Orisabunmi)
Veteran Nollywood Yoruba actress, Folake Aremu, popularly known as Orisabunmi died in the early hours of Tuesday, January 5, 2021 in Ibadan the Oyo State capital at the age of 60, Naija News understands.
Her death was confirmed by the Governor of Theater Arts and Motion Pictures Practitioners Association of Nigeria (TAMPAN) in Oyo State, Mrs Rose Odika.
She passed on after two days in the hospital, Odika disclosed.
3. Jim Maduike
Popular Nigerian actor and broadcaster, Jim Lawson Maduike, reportedly died on Saturday, January 9, 2020.
Naija News learned that the Nollywood actor and filmmaker allegedly died after complaining of body pains at around 12 pm.
The Imo State thespian joined the Nollywood movie industry in 2004 and acted in more than 150 movies before his death.
4. Dan Nkoloagu
Nigerian film actor, Dan Nkoloagu died on Friday, January 22, Naija News understands.
Though the cause of Nkaloagu's death has not been made public, the Nollywood actor passed away at the age of 83.
Confirming his demise on social media earlier, his son Dan Nkoloagu Jr. shared hospital photos of his late father with the caption: "IT WAS A BLACK FRIDAY FOR US YESTERDAY as my Dad left us without saying goodbye."
5. David Mela
David Mela was a fast-rising Nollywood actor who died from an undisclosed ailment on January 11, 2021.
The death of the young actor was made more emotional by a post before his death which suggests he was going through a rough time in life shortly before he passed on.
May the souls of the departed rest in peace.